Page 20 of 33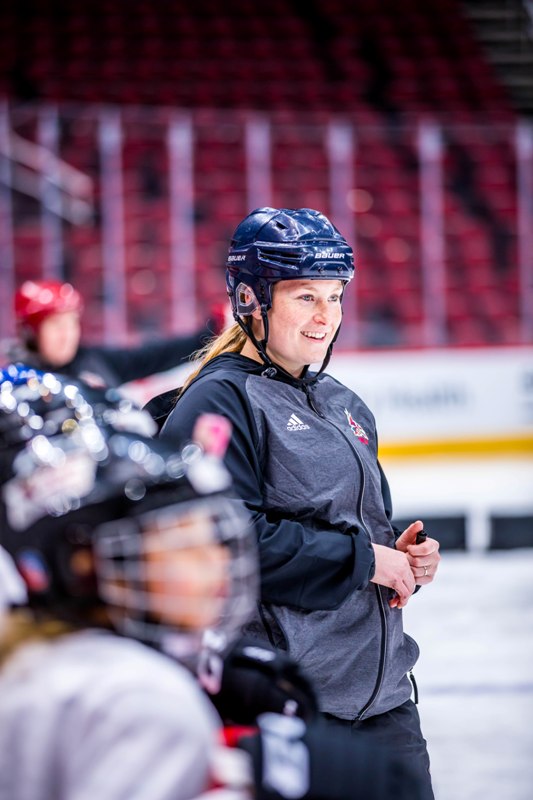 Lyndsey Fry
Olympian, hockey ambassador, special advisor to the president/CEO of the Arizona Coyotes and coach of Small Frys, the first NHL-sponsored girls-only program
What prompted your interest in hockey? I actually fell in love with "The Mighty Ducks" movies as a kid. My dad finally brought me some plastic skates, and I was hooked.
Tell us about Small Frys and Kachinas. The goal with Small Frys is to take girls who have been through the Coyotes' Little Howlers program and get them on the ice with an all-female staff throughout the summer. This enables them to have a girls-only social experience, get inspiration from female role models and ultimately build their confidence. Kachinas is a full-blown youth hockey association that is exclusively for girls and falls under the Arizona Coyotes umbrella. The hope is to continue to build out the association so that any girl who wants to play hockey with other girls in Arizona has a place to do so.
What is the most rewarding part of your career? What about the biggest challenge? The most rewarding part of my career thus far is the impact that I have been able to have on not only the girls' hockey community in Arizona but also throughout the Western U.S. I have been fortunate to be able to run multiple camps outside of Arizona in places like Montana, New Mexico and Utah. It's incredible to think that I've had the opportunity to help and inspire close to 1,000 players in my relatively short career, and I look forward to continuing that momentum. I think my biggest challenge is that I just want to do it all!
Tell us about your 2014 Winter Olympic experience, when you won silver with the US women's ice hockey team. Honestly, the best part of the entire experience for me was being able to be in Sochi with my family there watching. As a little girl from Arizona, I wasn't supposed to make it that far. But my family gave me every opportunity to get there, and I will be forever grateful to them for that. Beyond having my family there, the other great thing about my Olympic experience is that I knew that no matter if we won a medal or not, I would be able to come home to Arizona and change the face of girls' hockey forever with what I had accomplished.
What role do you think team sports play in a child's life? I tell people all the time that the reason why I am so passionate about getting kids into hockey is because everything I've ever had in life, from friendships to family memories to education to job opportunities to life skills, has all come from hockey. I don't think it's possible to get that from many other things as a kid growing up in today's world. Sports offer a unique community and teach things like teamwork, overcoming adversity and respect.
What advice do you have for girls and young women who wish to become successful athletes? Honestly, work hard and have fun. If you do those two things, you will find your version of success and your sport will never feel like work.