Our History of Results:
Arizona Foothills Magazine is the leading authority on luxury and lifestyle in Arizona, and has been for more than fourteen years. We have advertisers who have trusted us with their advertising needs since our inception in 1997. Don't miss the opportunity to get in front of our important audience that is active, affluent and embraces desert living through a lifestyle of luxury and prestige.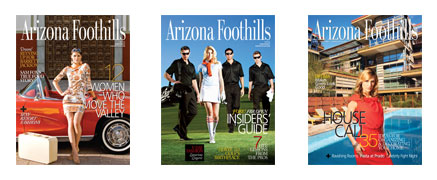 Our Proof:
Arizona Foothills Magazine is audited by Verified Audit, accredited outside auditors, who account for each and every issue we print. Our advertisers have proof we are everywhere we say through our twice-annual audit statements.
Our Web site:
The all-new AZFoothills.com is one of the fastest-growing Web sites in Arizona, and something few publishing companies have to offer. A variety of Web components are available to complement print ad schedules or serve specific needs, from directory listings to E-Newsletter sponsorships, event listings and more.
Contact Us:
Please fill out our Contact form, and a member of our team will respond to you quickly with more information. We are happy to customize print and Web packages that will work for you and your business.

Upload:
If you wish to upload you ad files please go to GoDaddy.com's Online File Folder site. Enter the User Name; MTD-FTP (case sensitive) and then the Password; media1 (case sensitive). You can upload direct onto the site, or create a folder to upload your file(s) into. If you are uploading multiple files we recommend compressing them all into a single .ZIP (Zip-It) or .SEA (Stuff-It Self-Extracting) file. Once you are done please email adsubmission@mediathatdeelivers.com so your files can be downloaded and reviewed.

Click here to fill out our contact form.
Click here to view the 2018 Print Media Kit.
Click here to view the print ad specs.
Click here to view the 2018 Editorial Calendar.
Click here to view the belly-band specs.
Click here to view the BRC specs.
Click here to view online/web specs.
Click here to view E-Newsletter examples.
Click here to view the Web & Social Media kit.