Page 1 of 3
The official 2014 Face of Foothills, Teen Future Face of Foothills and Junior Face of Foothills winners were announced in front of a huge audience at the W Hotel Scottsdale on Nov. 21. 
Laura Willert, 19, came out on top as the Face of Foothills winner, while 16-year-old Samantha Lewter snagged the Teen Future Face of Foothills title and Ellie York, 11, was crowned the Junior Future Face of Foothills. Both Willert and Lewter are represented by the Scottsdale-based FORD Robert Black Agency.  
 "We are thrilled to represent both winners of the Future Face of Foothills, Samantha Lewter and the Face of Foothills, Laura Willert!" said Sheree Hartwell, owner and director of FORD/RBA. Both are such lovely girls and they fully encompass what the FORD brand stands for. We know that they will do a wonderful job representing Arizona Foothills Magazine for 2014!"
Meet the winners below! 
Face of Foothills winner: Laura Willert, 19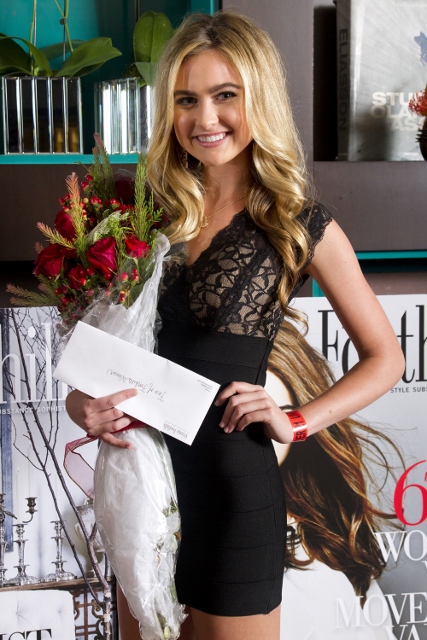 Photo by Danny Raustadt - BiggerPictureImages.com
AFM: How did it feel to hear your name called as the winner of Face of Foothills?
LW: When they announced my name it was surreal.  I had to almost pinch myself because it didn't register that I had actually won until I woke up with the biggest smile on my face the next morning.  It was such a special night that will never be forgotten.
AFM: What made you enter the FOF competition?
LW: I was the Future Face of 2013 and had the most amazing experience.  It was a great way to get noticed and opened up many modeling opportunities.  I loved it so much that I knew 100% that I wanted to try for the Face of 2014.
AFM: How was the competition process for you? 
LW: Since I did this contest a year prior, I knew what I was getting into.  I also knew that it was going to be a big commitment.  Many people would ask me why I was in the competition again since I won the Future Face last year, but for some reason I just had a good feeling and never gave up.  With the support from my family and friends I knew that it was possible and that I was willing to try.
AFM: As the new FOF, what are you looking forward to most?
LW: As the new FOF 2014 I am most excited about representing the magazine.  It is such an honor that I have been given this amazing opportunity so I want to go above and beyond to be able to present the magazine in the most positive way I can.  And of course, as anyone would be ecstatic, I am looking forward to being on the cover of the 2014 January issue as well as all of the other social media sites.