Page 14 of 33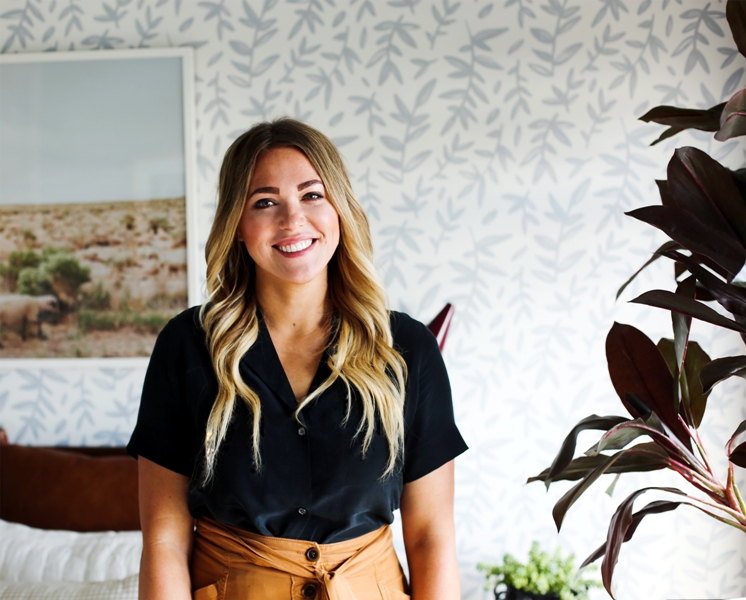 Jenny Komenda
Wildly popular design influencer with an Instagram following of more than 170,000 and founder of Juniper Home and Juniper Print Shop
What prompted your interest in design? My mom was, and is, a really talented decorator and homemaker. She would have been an amazing lifestyle blogger! I loved that she involved me in her home projects from a young age. One of my earliest memories as a young toddler is looking through wallpaper books with my mom.
Tell us about Juniper Home. We believe that a huge budget is not necessary to make a home look and feel beautiful, even uniquely so. We share design tips about the homes we rehab with care and we sell accessible home products that give a home personality and a high-end look.
Before Juniper Home, you had the adored Little Green Notebook design blog. How did social media and the blogosphere shape your career? What I love the most about blogging and social media is the community aspect. There is a sense of camaraderie and actual friendship with my following, many of whom have been watching my career grow and develop for more than a decade. They remember when I got my first really high-end design jobs too and cheered me on as I figured out navigating that world, and then when I decided to leave it after almost 10 years of residential and commercial client work. I've come full circle now and am back to sharing the design minutiae on my social platforms.
What is the most rewarding part of your career? What about the biggest challenge? I think I must have been a teacher in a past life. I love design education and any time I can squeeze a little lesson about the history of design or an interesting fact about a building material into my content, I feel like I am better serving my community. A huge challenge I have faced as a blogger and Instagram influencer is knowing where to draw the line with sponsored content. I think we are seeing some pushback from our communities about this exact thing, as the trend toward real-not-perfect is further defined. I am still navigating what this means for me and my business, but I think it's something we all will have to figure out in the coming years as this digital revolution continues to expand into every part of our lives.
You grew up in Arizona. How has the Valley changed over the years in your eyes? Arizona is so much cooler now than it was even five or 10 years ago. The caliber of products available in local shops, the delicious, fresh foods in beautiful restaurant settings, the flea and farmers markets—they can all hold their own.
In what ways do you give back to the community? I was born and raised in Mesa and feel a strong pull toward helping with the revitalization efforts happening downtown. It has been thrilling to be a part of meetings and initiatives with the city and other private groups geared toward cleaning up and making downtown a friendlier, beautiful place to live and work. We opened our studio on Main Street two years ago and have taken on a few home rehab projects in the historic district surrounding the downtown area. It feels so good to be investing back in my city in a way I feel I am uniquely qualified!