Page 8 of 11
"My biggest inspiration was my grandmother. She was an incredible woman who overcame great hardship and is a survivor of the Holocaust. [She] rebuilt a life and always opened her heart."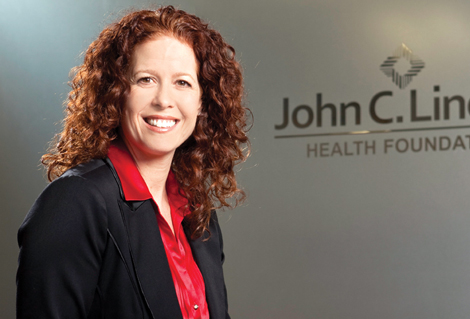 MARCIA MINTZ CEO of the John C. Lincoln Health Foundation
AS THE CEO OF THE John C. Lincoln Health Foundation, Marcia Mintz is in charge of creating philanthropic and business relationships, often times helping millions of dollars get into the hands of those who need it. "I'm very excited to lead the philanthropic support," Mintz says about being a part of the "very special" foundation by promoting healing and health to the community.
In the past, she worked for Valley of the Sun United Way in Phoenix and led the effort that secured a $50 million campaign for the first time in the organization's history. She has spread her passion for philanthropy throughout the various countries she has lived in, including Cuba, where she focused on international development, health, education and more.
Outside of the John C. Lincoln Health Foundation, Mintz serves on many different boards including The Jewish Community Association, Human Rights Campaign Federal Club and she contributes to child-centric groups. Mintz provides advising to organizations that she cannot personally contribute to, still reaching out to the greater community when at all possible.
"I always want to continue to help fund important things in our community," Mintz says, who is a third-degree black belt and enjoys yoga. She believes that Arizona has hugely generous residents and hopes to see it as a nationally recognized place of philanthropy someday.
One recent collective community effort with the John C. Lincoln Health Foundation involved funding new mammography technology. Since April, the technology has diagnosed 15 cases of breast cancer that otherwise wouldn't have been detected. "I'm so lucky and grateful," Mintz says. "It's very fulfilling to see people have an impact on so many lives. Every little bit helps, and it's so powerful." —A.L.