Page 5 of 11
"My grandma…always felt that it was important to care for the earth, give back, put healthy food in your body, treat yourself well and to treat the earth well. My mom…was the one who taught me about balancing work and family."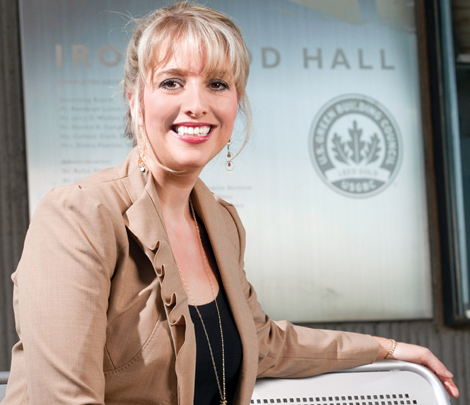 BROOKE BOGART Architect and Principal of Ecological Environments
"WE DO NOT INHERIT THE EARTH from our ancestors; we borrow it from our children." Award-winning architect and principal of Ecological Environments, Brooke Bogart applies this inspirational quote to guide her passion in both her work and personal life.
Ever since she was 11 years old, Bogart has lived as a vegetarian and says her lifestyle has always revolved around her true passion for sustainability, green-building design and healthy living. "I think of how the earth was when I was a child and we've done so much damage since then," Bogart says. "I don't want to give my child a lesser earth than I had. I need to improve it, fix it. I know I'm just one small piece of it but if I can do whatever I can do to improve it, I certainly will. It's definitely my goal."
Bogart graduated from Arizona State University with a master's degree in energy and climate design in 1997. She went on to be certified as the state's first female LEED Accredited Professional and continues to help other architects and designers with sustainable building consulting and educational services through her company, Ecological Environments. "What I love about architecture is how different every project is," she says. "It's not doing the same thing over and over again. Especially with all the new technology, there's always something to learn and with every project, there's always a new unique challenge."
While dedicating her line of work to sustainable design, Bogart is positively balancing her personal life as a happy bride-to-be and a mother of three precious children. In her spare time, Bogart enjoys bike riding, taking walks and has recently dabbled in painting. —T.B.