Page 8 of 33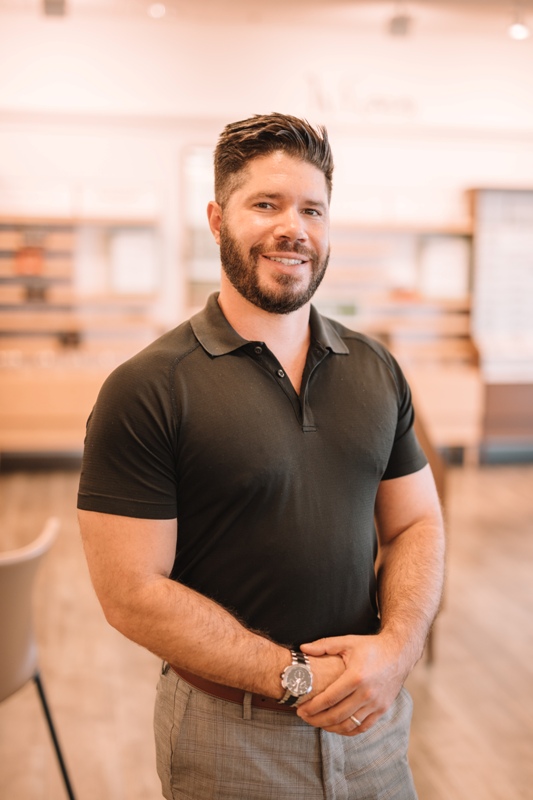 Abby Stevens
Dr. Matthew Campouris
Optometrist with Campouris Eyecare, located inside Pearle Vision North Scottsdale
How did you get your start in the medical industry? When I was a freshman in undergrad at ASU, I didn't really know what I wanted to do occupationally. I knew I wanted to help others. I just didn't know how I wanted to help others. After taking several science-based classes dealing heavily with human anatomy and physiology, I discovered my passion for the medical field. Because I believe that vision is our most prized sense we possess, optometry seemed like the perfect fit. Nine short years of schooling later, my dream became a reality.
What is the most rewarding part of your career? Every day I get to provide people the gift of sight. There is nothing better than watching someone really see for the first time.
Why do you think you have been so successful in your career? I've been blessed to work in an area with patients that I can really relate to and establish a relationship where they feel comfortable in my care. My goal is to not only assist in correcting any visual complaints, but also to provide preventative care with regular ocular evaluations. Genuinely caring about my patients has been the root to my success.
Do you have a patient story that you have been particularly moved by? I have had several patients come in not knowing their vision was and has always been severely compromised. Most don't have a frame of reference to compare to because they have always seen the world in only one way. With these particular individuals, it has always been extremely rewarding watching them see the world in full clarity for the first time. It not only changes a patient's life when they are able to see clearly, but it allows to do better in school and be a more functional member of society. These are monumental moments in their lives.
What do you envision for the future of Valley medicine? As the city continues to grow, keeping up with the demand in healthcare can prove difficult. Out of convenience, some of us have started relying on remote forms of examinations. These examinations provide little to no information as to whether or not any vision or life-threatening conditions exist like ocular melanomas. This is especially important here in the Valley as we are heavily exposed to the sun. It is crucial that we establish proactive care with annual health checks and encourage young adults to pursue careers in medicine/healthcare.
What influence do you hope to have on the Valley? I hope to simply educate everyone on the importance of annual eye examinations for all ages. Ocular melanomas are something that can pop up on anyone's retinas. If something like this pops up in the back of our eyes, it will grow and spread before any symptoms manifest. It essentially goes undetected without a retinal evaluation. By the time the vision is affected, it's often too late.
In what ways do you give back to the community? I currently provide military screenings for those enlisting and, in the near future, school screenings. Without being able to see the board at school or a book in front of them, they are at a huge disadvantage.