Page 8 of 9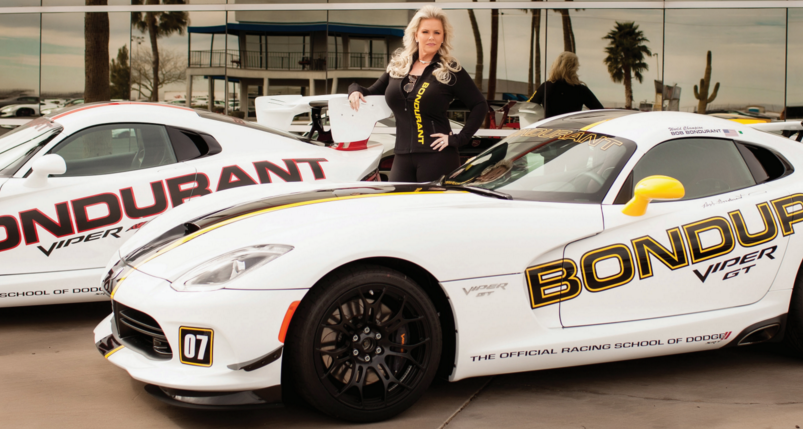 PAT BONDURANT, President of the Bondurant Racing School, Bob Bondurant School of High Performance Driving
WHAT DOES IT MEAN TO YOU TO BE A WOMAN WHO MOVES THE VALLEY?
It is a real wow moment for me. When I think about the life and times of Pat Bondurant in this Valley, I guess you could say I do move throughout the Valley full throttle. My husband Bob is great about sharing me between our Racing School, family, charity work, volunteering and the way I make a sincere effort to embrace our community with all my heart. This valley means more to me than anywhere I have ever lived in my life.
WHAT IS THE DRIVING FORCE BEHIND YOUR SUCCESS?
My mother forgot to give me the memo that there was a glass ceiling for women; she was the second highest ranked woman as a civilian in the military with the US Army Missile Command. Then she managed to give birth to me in the middle of five brothers who said either keep up or we are leaving you behind. That was a pretty effective driving force. I remember being 19; I was a runway model featured in six Ford commercials, and my first real job was being a draftsman at Teledyne Brown Engineering on NASA's first space shuttle, the Enterprise. Not one brother around the Thanksgiving table made one remark about my modeling success or my NASA job. Their silence was a lesson in humility. They were all very successful. You never wait to hear praise from anyone; just do what you do, and be the judge of your own success.
WHAT IS THE BIGGEST OBSTACLE YOU HAD TO OVERCOME?
Being a single mom with two kids and zero child support from either father. There was never the problem with being able to advance at work based on my abilities; the obstacle was to juggle daycare, sick kids, school plays, sports events, company flights, late meetings, overtime, deadlines. I was usually the only woman at the management levels, never revealing the levels of stress of having to juggle being the mother and the father to two kids nine years apart. Once again, using what my brothers taught me, if you cannot keep up, you will be left behind.
WHAT VALLEY CAUSE IS THE NEAREST AND DEAREST TO YOU?
Childhelp. It is the nation's oldest and largest advocacy for abused and neglected children. My son's father was a very violent person who was abused as a child and became an abuser. Fortunately, my son did not follow the pattern. My husband and I have visited the two Childhelp villages on each coast. It was a game-changer for us to see how much dedication the founders put into the incredible national success of the organization. It is not just a little local chapter; it is in every state. Phoenix is the headquarters. It is very important that I give up my spare minutes to help defend children and animals. They have no voice, and they have no choice of how they are treated.
NAME A WOMAN WHO IS YOUR BIGGEST INFLUENCE.
Sara Fedderson, founder of Childhelp. This woman is an exceptional example of influencing millions of children and adults. She has moved the big valleys, mountains, politics, obstacles and hearts to teach all of us that it is a privilege to be on this earth [and] to help one another—however small or broken.
FAVORITE...
BOOK: The Clan of the Cave Bear
MOVIE: "Gone with the Wind"
TV SHOW: "America's Got Talent"
GUILTY PLEASURE: Godiva chocolate seashell with the oyster in the middle.
TIME OF DAY: Twilight. It's so ethereal and magical that I feel like I walk between the worlds of heaven and earth.
WAY TO UNWIND: Snuggled anywhere on earth as long as it is in my husband's arms.
ANNUAL LOCAL EVENT: Fight Night
THING ABOUT ARIZONA: The sunrises and sunsets. They rival Hawaii on absolutely any given day.