Page 4 of 9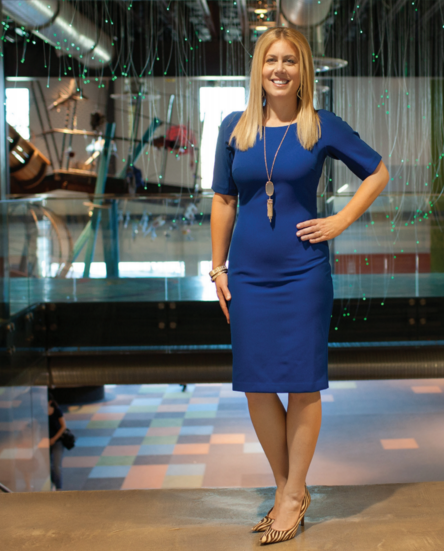 KATE WELLS, CEO of Children's Museum of Phoenix
HOW DID YOU COME TO BE THE CEO OF CHILDREN'S MUSEUM OF PHOENIX?
I have been fortunate to be involved with the Children's Museum since its inception as one of the founding members. I helped raise the funds (and friends) to get the museum open, and then returned as the CEO in 2013.
WHAT IS YOUR PROUDEST PROFESSIONAL MOMENT?
Standing on the front steps of the beautiful, historic Monroe School as the ribbons were cut to celebrate the opening of the museum will forever be one of my professional highlights. The honor and privilege of helping to create a community treasure doesn't happen very often!
WHAT IS THE DRIVING FORCE BEHIND YOUR SUCCESS?
Three things really—I say yes to opportunities that are put in front of me, I can slog away at huge, messy projects longer than anybody I know (often when others give up), and I show up every day with passion and a willingness to give it my all.
WHAT VALLEY CAUSE IS THE NEAREST AND DEAREST TO YOU?
I am passionate about causes that raise the tide for all women. I very firmly believe that when there is equality in the home, the workplace, in our government, and in our boardrooms, the result will be better education, health, prosperity and happiness for everyone. Obviously the Children's Museum is the cause nearest and dearest to my heart, but I also just finished my 13th year of being a Girl Scout leader helping empower the next generation of women.
HOW DO YOU BALANCE BEING A MOM WITH YOUR CAREER?
There really isn't a balance; I see both as important, but my role as mom takes precedent over work. That being said, I think having a dynamic career brings richness to my life that makes me a better mom, and my amazing daughters teach me new things—opening my heart and mind every day—that make me a better business person.
NAME A WOMAN WHO IS YOUR BIGGEST INFLUENCE.
My mom, Eileen Bell. As a single mom raising two highly spirited daughters, she seized every opportunity that came her way to better our lives, going from a newly divorced stay-at-home mom to an executive for a Fortune 500 company. She wakes up every day with an amazing positive attitude and a zest for life.
FAVORITE...
BOOK: Gulliver's Travels by Jonathan Swift inspired little Kate to explore the world, but Leaves of Grass is a daily reminder to live my life like a Walt Whitman poem.
MOVIE: "Amélie"
TV SHOW: "CBS Sunday Morning"
GUILTY PLEASURE: Disco
WAY TO UNWIND: Working in my vegetable garden.
VALLEY RESTAURANT: Restaurant? Singular? Is it even possible to have one favorite in this city of great food?
ANNUAL LOCAL EVENT: The Children's Museum's annual gala. We've won best gala in the Valley for years now, and it is the best party!
THING ABOUT ARIZONA: There are endless possibilities in Arizona if you have a great idea and some gumption. Plus, we can water ski and snow ski in the same day!