Page 7 of 9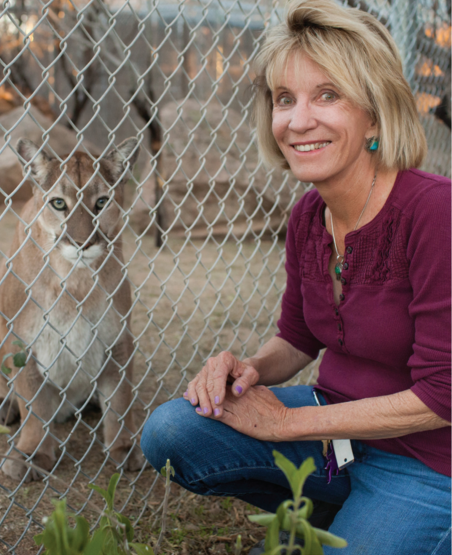 LINDA SEARLES, Founder/Executive Director of Southwest Wildlife Conservation Center (SWCC)
WHAT DOES IT MEAN TO YOU TO BE A WOMAN WHO MOVES THE VALLEY?
While it is an honor to be recognized, it is not just about me. If it were not for all the people who have donated their time, money and knowledge, SWCC would never have been the success that it is today. I thank them all for believing in me and the cause.
WHAT IS YOUR PROUDEST PROFESSIONAL MOMENT?
SWCC becoming a member of the endangered Mexican Wolf Species Survival Program. SWCC is a holding facility for United States Fish and Wildlife Service, holding and caring for this endangered species. We also collect genetic material to be used for future breeding.
WHAT IS THE DRIVING FORCE BEHIND YOUR SUCCESS?
My mentors and friends and a lot of stubbornness. Growing up on the ranch, our horse vet, Richard Hancock, was a great inspiration and mentor to me. He taught me how to read animals, the subtle signs that most people miss. He also taught me a lot about veterinary medicine and how to work under difficult conditions yet still give the best possible medical care. I will forever be grateful to him for his time and the knowledge he instilled in me. Because of his kindness and willingness to pass on his wisdom, I feel obligated to do the same. Now it is my duty to mentor the next generation to pass on the knowledge they gave me. Some of my best learning came from experiences that cannot happen in a classroom or out of a book. With the SWCC veterinary and biology internship program, we do just that: give them hands-on personal experiences alongside experienced professionals. A place where the animals become the teachers.
WHAT IS THE BIGGEST OBSTACLE YOU HAD TO OVERCOME?
Funding, resources and lack of knowledge about wildlife. In the beginning, it was hard to find information on diets, formulas, nutritional needs, medications and treatments for wild animals. Networking with others around the country sharing experiences and medical cases has helped all of us to do a better job of rehabilitating wildlife.
WHAT IS ONE WISH YOU HAVE FOR THE FUTURE?
That SWCC will always be there for injured and orphaned wildlife and a place to teach and inspire future generations to save wildlife. That no wild animal dies on the side of the road or suffers because there was no place for them to get help. A place where our next generation of wildlife stewards can be mentored. We all share a planet with finite resources that are dwindling. I believe that we must educate people to understand wildlife and, once they do, they will care and help to protect our wildlife and the world that we share. We all share the same planet.
FAVORITE...
TV SHOW: "Salvage Dawgs"
GUILTY PLEASURE: Riding my reining horses.
TIME OF DAY: Evening when it is quiet, [and I can] hang out with my dogs and Facebook friends.
WAY TO UNWIND: Time spent with my horses and dogs. They are my sanity, my therapist.
VALLEY RESTAURANT: Jalapeno Inferno
ANNUAL LOCAL EVENT: Sun Country Circuit Quarter Horse Show at West World
THING ABOUT ARIZONA: I was born here and grew up in Scottsdale when it was a small town. I love the mountains and the way they change color throughout the day, the blue skies, the mesquite bosque, the diversity of wildlife and landscape.