Page 3 of 9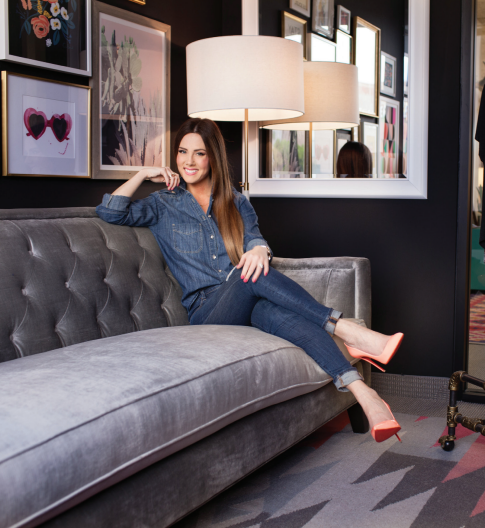 ALI MATTHEWS RADOW, Chief Creative Officer of 224 Apparel
TWITTER: @224apparel
WHAT DOES IT MEAN TO YOU TO BE A WOMAN WHO MOVES THE VALLEY?
These women are the movers and shakers. They have the determination, the discipline, and the pure perseverance to make a difference. A Woman Who Moves the Valley is inspired to inspire others. She celebrates life. I'm grateful for the women in my life that inspire me, and it's an honor to be considered among this group.
HOW DID THE 224 APPAREL COME TO BE?
As a little girl, I knew that creativity made me happy. Art made me feel alive. I also knew I'd be doing my own thing. While attending Arizona State University, I joined my sorority. I wanted to wear my Greek letters with pride every day. I searched high and low for cute and fashionable items. The Greek apparel industry was in need of a serious overhaul. At the time, mostly men were selling clothes to these young women—this didn't make sense to me. As graduation grew near in 2008, it clicked. This demographic desperately needed a female presence, along with a sense of style. And it wasn't just Greek life that craved fashion-forward custom apparel. I wanted to create items that I'd be excited to wear myself. I'm so fortunate to have a creative and supportive team. We're a force together; their energy is contagious. Our loyal and supportive followers across the country have allowed us the unique luxury of growing our business on a referral basis. We're grateful to be appreciated for what we love to do.
WHAT HAS BEEN YOUR PROUDEST PROFESSIONAL MOMENT?
Working with each campus is a privilege, which stems from our very first clients at ASU. My alma mater is where this all began for me. While staying true to our roots of clients based upon referral, working with each of the sororities at ASU was huge for us. We were so pleased when they came to us. By March of last year, we reached our goal. Knowing they chose to put their trust in our hands is an honor.
WHAT IS THE DRIVING FORCE BEHIND YOUR SUCCESS?
My family. My mom and dad encouraged me to challenge myself. They're my role models, leading by example. Creativity and entrepreneurship run in the family and led me to pursue my own passions.
WHAT VALLEY CAUSE IS THE NEAREST AND DEAREST TO YOU?
For the past six years, we've been honored to participate in the Larry Fitzgerald First Down Fund, which benefits children.
WHAT IS ONE WISH YOU HAVE FOR THE FUTURE?
We hope to continue providing clothing that enhances a woman's self-esteem. When our clients tell us how happy they feel, we're overjoyed.
FAVORITE...
BOOK: The Woman I Wanted to Be by Diane von Furstenberg
MOVIE: "Clueless" (I can recite every line), "Woman in Gold"
TV SHOW: "Gossip Girl" (Serena's wardrobe is everything)
GUILTY PLEASURE: Collecting pretty stationery. Pinterest.
WAY TO UNWIND: A good laugh!
VALLEY RESTAURANT: La Hacienda. Pomegranate guacamole and churros...yes, please!
ANNUAL LOCAL EVENT: Scottsdale Culinary Festival.
THING ABOUT ARIZONA: The cotton candy sunsets. And the cacti!