Page 5 of 9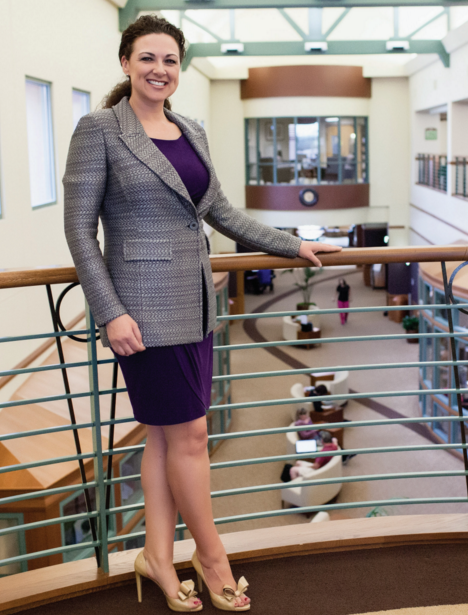 MOLLY STOCKLEY, Vice President of Hospital Growth at Cancer Treatment Centers of America (CTCA)
TWITTER: @mgstockley
WHAT DOES IT MEAN TO YOU TO BE A WOMAN WHO MOVES THE VALLEY?
It means that I have a larger responsibility in the Valley to make sure that I strive to open the doors to future generations and a need to continue to visualize how to make our community a better place to live and develop. I feel that being a mom 'mover' provides a unique perspective that allows me to look at our community like I look at my own family. A mom aspires to provide opportunity, vision and security for her children. My mission is to initiate and foster those same ideals for the benefit of the Valley.
HOW DID THE HEALTH REALM COME TO BE YOUR CAREER PATH?
I am originally from New Iberia, La., and have 24 years in broadcasting, marketing, branding and advertising, working in television in Louisiana, Oklahoma City, Seattle and Portland and with the Anaheim Angels, finding my way to Phoenix at KTVK Channel 3. While at Channel 3, one of my co-workers and closest friends, Kristi, was diagnosed with stage 4 melanoma, with metastases that spread to her brain. I stood by my friend during the treatment process and was heartbroken at how difficult cancer is on a patient. Kristi battled but eventually succumbed to the disease at the age of 28. I could not shake the reality of how she struggled through the inhumane treatment process. In a stroke of fate, I was asked to cover an event, representing Channel 3, announcing the new Cancer Treatment Centers of America being built in Goodyear. I was overwhelmed by the message that CTCA's CEO presented. I learned that CTCA is a place that the doctors work for the patients and focuses on eliminating all of the collateral hardships that Kristi had just endured. CTCA's Mother's Standard of care states that every stakeholder treats the patient as they would treat their own mother. In that moment, I had a new career path and a mission where I could use my passion, skills and expertise to help those in need.
WHAT IS THE DRIVING FORCE BEHIND YOUR SUCCESS?
My sheer drive and passion for our mission and truly helping those in need. It is my duty to communicate and endorse CTCA to those who need whole-body cancer care, who are fighting to live. When I meet patients, I see Kristi. I see her big blue eyes and her gorgeous smile. I know that she is proud of the work that I do.
WHAT VALLEY CAUSE IS THE NEAREST AND DEAREST TO YOU?
Kristi Cares, The Kristina A. Stockley Melanoma Foundation, in honor and spirit of Kristi, is a nonprofit organization which strives to educate Arizonans about the dangers of skin cancer and the importance of sunscreen usage. The organization provides SPF 30 sunscreen dispensers at over 35 locations in the Valley, including spring training facilities, elementary and high schools, community events and, along with CTCA, provided 100-plus dispensers to the over one million attendees that attended the 2015 Arizona Super Bowl festivities. According to an article about innovative ideas from the 2015 Super Bowl, the sunscreen dispensers were named one of the top 10 best ideas from the Super Bowl. You can also find the sunscreen dispensers at the Arizona Cardinals football games as well as the Arizona Diamondbacks [games].
HOW DO YOU BALANCE BEING A MOM WITH YOUR CAREER?
Being a mom is the most important responsibility and privilege that I have in life. I balance by making family the priority. The best part of my day is taking my son, Jackson, 4, to school every morning and playing with trains at night with my 2-year-old, Jacob. My husband and I are unwavering in our dedication to family and work to create time to spend at home with our children. We strive to sit down at the table each night for dinner. A daily recap through the eyes of a 2- and 4-year-old provides a unique perspective that brings everything into focus. As they say, 'It takes a village to raise a child.' We incorporate a team strategy to foster the most loving and supportive environment possible. Making sure to not lose myself and my career in the process. Like my car license plate says, VP MOM. My favorite titles.
FAVORITE...
BOOK: What Southern Women Know That Other Women Should
MOVIE: "Dirty Dancing" and "Bridesmaids"
TV SHOW: Anything on HGTV and, of course, Disney Junior.
TIME OF DAY: At the end of day, about 6 p.m., when the sun is setting and the Arizona sky is yellow, pink and blue. That's when I say, 'I love living in Arizona, I am never moving.'
WAY TO UNWIND: Spending time with my husband, Bob, and my two boys at our cabin in Pinetop located in the White Mountain Country Club.
VALLEY RESTAURANT: Our restaurant at CTCA called Ricardo's. We grow and serve organic vegetables and fruits from our 65-acre organic farm, in partnership with McClendon's Farm.
ANNUAL LOCAL EVENT: Arizona Assistance In Healthcare's Super Ball Sports Gala and Project Pink Vintage Luncheon and the elegant, celebratory Phoenix Heart Ball.