Page 6 of 9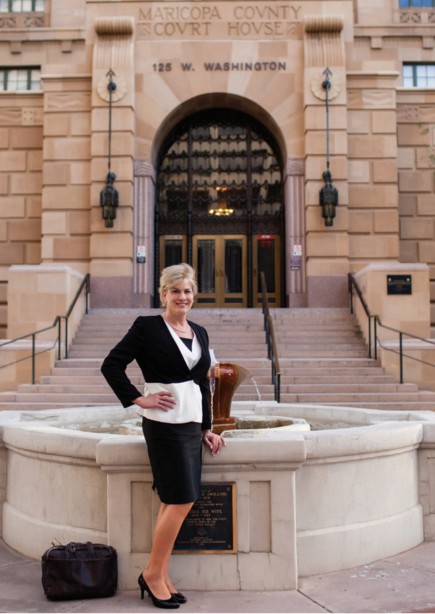 STANNA MICHELLE SLATER, Owner/Founder of The Law Office of Jeffery S. Slater, P.C.
WHAT DOES IT MEAN TO YOU TO BE A WOMAN WHO MOVES THE VALLEY?
Receiving this recognition as a transgender woman means to me that the hard work of others who preceded me in Arizona's transgender movement finally has begun to visibly manifest. I view myself as a fortunate beneficiary of the sacrifices made by others who pioneered our movement. I hope that this recognition will encourage other transgender Arizonans to pursue their goals and dreams with more confidence.
HOW DID LAW COME TO BE YOUR CAREER PATH?
Every aspect of my life, and particularly my career, has been the result of discovery. As a child, I dreamed of becoming a professional musician but in high school, discovered that my true calling wouldn't manifest without higher education. In college, I discovered two career paths were particularly appealing to me: serving my country in the Army Reserve and practicing law as a civil advocate. I've been fortunate to pursue both of these callings but have discovered civil advocacy to be my passion––for more than 26 years now.As a transgender woman and supporter of the LGBT community, what impact do you hope to have on the way the Valley views diversity?I hope that my gender identity and efforts will eventually lead to statewide legal reforms that end discrimination against those who identify as gay or transgender. I'm always striving to promote education and public awareness about the struggles of those who are gay or transgender. We all may have gay and transgender people in our lives, as our friends, neighbors, co-workers and even family members. Studies have shown that 73 percent of Arizonans believe our laws are fully inclusive. However, the reality is that people who are gay or transgender can be fired, denied housing and denied public accommodations. They should be treated like anyone else and not be discriminated against.
WHAT IS YOUR PROUDEST PROFESSIONAL MOMENT?
I will always remain proud to have served my country as a commissioned officer in the Army Reserve. The experience of serving my country has taught me to defend those whose rights and freedom may be being threatened. This led me to my passion for civil advocacy, and I'm proud to say that my work on behalf of those who are gay or transgender recently yielded recognition in Scottsdale in the form of a 2016 MLK Diversity Champion Award.
WHAT VALLEY CAUSE IS NEAREST AND DEAREST TO YOU?
The Valley cause that's most dear to me is one•n•ten. This is because it empowers the Valley's gay and transgender youth, many of whom have suffered from bullying and homelessness. I've had the chance to meet and help many of these youth, and I've found comfort in being able to help inspire some of them to begin pursuing their full potential.
FAVORITE...
BOOK: The Secret
MOVIE: "Some Like it Hot"
TV SHOW: "Seinfeld"
TIME OF DAY: My morning coffee routine.
WAY TO UNWIND: "Calgon, take me away!"
VALLEY RESTAURANT: Mastro's Ocean Club
ANNUAL LOCAL EVENT: McDowell Mountain Music Festival
THING ABOUT ARIZONA: No other place on earth showcases such beautiful diversity, especially in its people, its landscape and its climate.