Page 9 of 9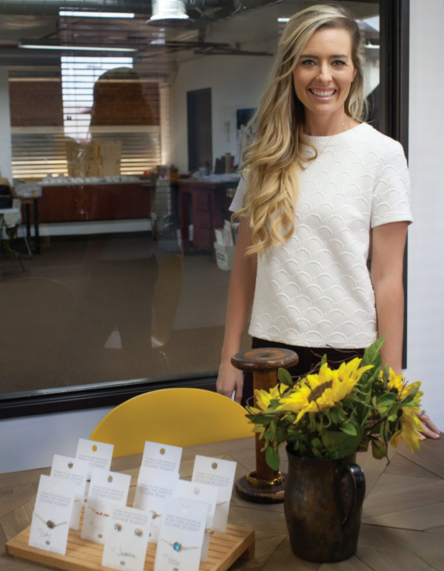 ASHLEY LEMIEUX, Founder/CEO of The Shine Project
TWITTER: @TheShineProject
WHAT DOES IT MEAN TO YOU TO BE A WOMAN WHO MOVES THE VALLEY?
Thinking about how The Shine Project all started from my two-bedroom condo a few years ago to where we are now and being recognized as someone whose work is moving the Valley is very humbling and exciting for me. It means that hard work pays off, the underdog can win, and that people are looking to belong to something that's bigger than themselves.
HOW DID THE SHINE PROJECT COME TO BE?
My senior year of college I was interning at an inner-city high school in Phoenix. I met so many amazing students who didn't know that they had potential to receive a higher education and break the cycle of poverty and low expectations, and I knew that I had to do something about it. I started a nonprofit to help send them to college, and then a year later created a business where we employ the students we give scholarships to to make jewelry so they learn business skills and work ethic that prepares them to be successful when they graduate.
WHAT IS THE DRIVING FORCE BEHIND YOUR SUCCESS?
The driving force behind our success is that we do a lot more than just sell product. We stand beside a group of people who have been overlooked for years, tell them that they are capable and help them reach their potential. We invest our resources in creating leaders in people, and spend less time worrying about selling a piece of jewelry. Combining our jewelry with our love for people is what has allowed us to be successful.
WHAT IS THE BIGGEST OBSTACLE YOU HAD TO OVERCOME?
Fear of the unknown has been a very big obstacle for me to overcome these past few years. When both the future of your business and also your personal life is unknown, it creates a lot of anxiety and stress in ways that I didn't know ever existed. I have had to learn that I am the one in control of my business and life, and that just because someone else tells you something isn't possible, doesn't mean that it's true.
WHAT IS ONE WISH YOU HAVE FOR THE FUTURE?
To open more Shine centers up across the country. We are scheduled to do so this coming year.
FAVORITE...
BOOK: To Kill a Mockingbird and Start Something That Matters
MOVIE: "Cinderella"
TV SHOW: Probably shouldn't admit this but "The Bachelor."
GUILTY PLEASURE: Cheez-its and Cool Ranch Doritos
TIME OF DAY: 4 p.m.—have a good chunk of the day under my belt, progress has been made and soon I get to see my family.
VALLEY RESTAURANT: Tasty Thai
ANNUAL LOCAL EVENT: Crafeteria at Frances Vintage
THING ABOUT ARIZONA: I love hiking, and I never have to live in the snow!