Page 2 of 9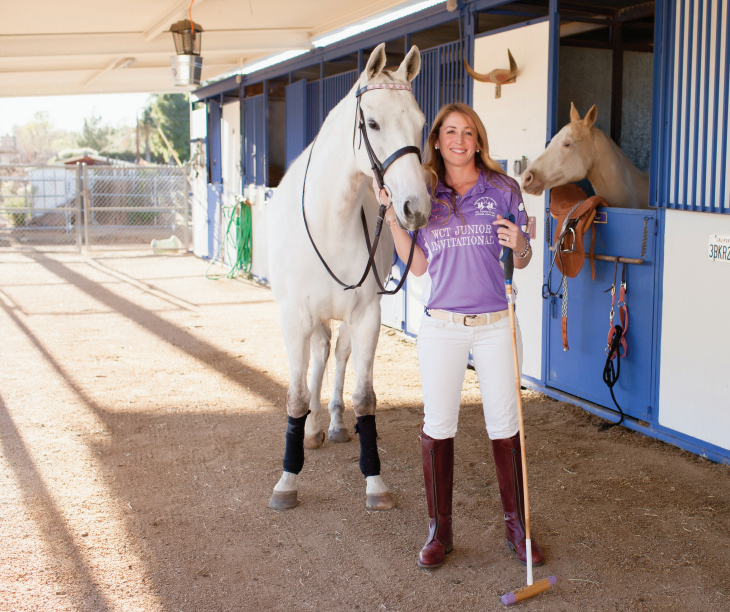 NATALIE GRANCHAROV CAMACHO, Process Engineering Manager at Intel Corporation, Marketing/New Player Director at Arizona Polo Club – Polo Cares Inc, and Co-Founder of Lila Polo and Mujeres Divinas Polo
WHAT DOES IT MEAN TO YOU TO BE A WOMAN WHO MOVES THE VALLEY?
It's amazing! Not just to be recognized for this but to be amongst such great female leaders in our community, I see this as an opportunity to meet new women with great talents from di erent spheres of business and hopefully learn from them...and maybe get them to try polo! It's meant so much to me to be able to share my passion for polo to others, especially young women. Women are making moves in the technology industry and the polo field.
WHERE DOES YOUR PASSION FOR POLO STEM FROM?
My passion for polo comes from my love of horses and my competitive spirit. Horses are some of the most amazing animals, to be able to control a 1,000-lb. horse, racing down the field at close to 30 mph hitting a ball is such a rush of emotion. I love to think intensely and solve problems which is why I love my day work at Intel solving technical problems, and it complements well with my polo passion. I am lucky enough to have married a businessman and a polo player who comes from generations of polo, to be able to share this passion with him makes it even more fun. Most people don't realize that polo is one of the few sports that women and men can truly compete on an even playing field. The top matches for polo in the world can be played by anyone who can keep up, regardless if you are male or female.
WHAT IS THE BIGGEST OBSTACLE YOU HAD TO OVERCOME?
Successfully transferring a high-volume manufacturing technology at Intel that is the most complex in the world. This was a huge challenge for myself and my team, but we did it and look back proudly on the work we did. (I could tell you more but it's top secret!)
WHAT VALLEY CAUSE IS THE NEAREST AND DEAREST TO YOU?
Horse rescue associations such as Arizona Equine Rescue and Off Track Thoroughbred rescues. I always wish I could do more to help horses that are neglected, rescued or in need of more care. I have started a yearly polo tournament to benefit horse rescues, and I will continue to work hard at it to lend support to these great organizations. Horses have been such an integral part of human history. We owe them a lot more than we give them, and they are so therapeutic to us. My husband and I have picked up many ex-race horses from the track, and they have become excellent polo horses.
NAME A WOMAN WHO IS YOUR BIGGEST INFLUENCE.
Stephanie, my sister, has been the greatest influence on me. She is the head of strategy at one of the world's largest pharmaceutical companies. Stephanie has proven that you can be a successful woman and still have a sense of humor and a big heart. I guess that credit is really due to our mother who encouraged us to be tough but always laugh, be kind and respect others.
FAVORITE...
BOOK: TJ Rodgers' No Excuses Management
MOVIE: "Some Like it Hot"
GUILTY PLEASURE: Sprungli Marzipan Fruits, a treat my sister brings from Switzerland.
TIME OF DAY: Morning
WAY TO UNWIND: Riding horses with my husband.
VALLEY RESTAURANT: Mastro's Ocean Club
ANNUAL LOCAL EVENT: The Polo Party, of course!
THING ABOUT ARIZONA: My home and stables where we can enjoy beautiful weather and riding anytime we want.