Page 3 of 9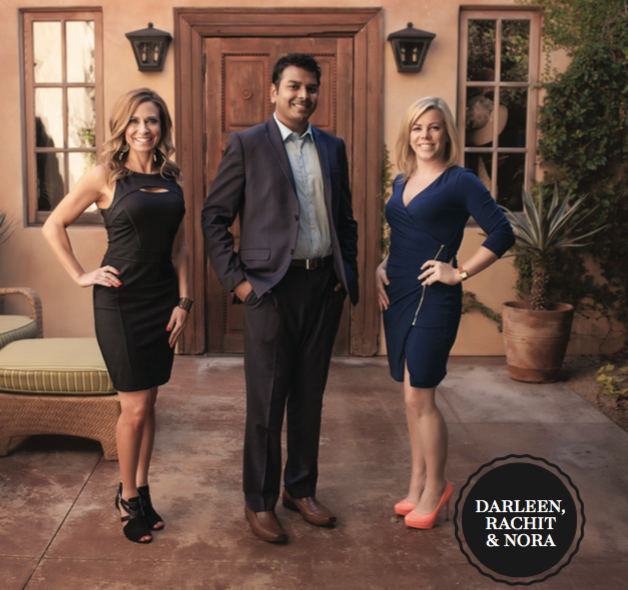 Darleen Santore
40, FOUNDER OF COACH DAR WELLNESS AND LIFESTYLE REDESIGN @THECOACHDAR
What is the most romantic thing you've done for a partner? I arranged to have all of his friends fly in for a surprise 30th birthday party. I had a special guest come, "the Godfather," to say a few words (he was from New York and I am Italian—I had to). It was hilarious. Then I got dressed up and came out to the party as Marilyn Monroe to sing "Happy Birthday, Mr. President" as his last name was the name of a former president. It was a blast.
What can you offer a potential mate? The coolest best friend ever who will do lots of different things with him from going to sporting events, to watching them at home, to attending concerts, to hiking, to digging deep and having meaningful conversations, to dressing up and going out for a night on the town, to laying low and watching a movie. Point being, someone who is fun, flexible and passionate about doing life together.
Who is your celebrity crush? Jimmy Fallon because he's hilarious, can make everyone comfortable, can break out in rap and dance, and he's just great at what he does. Derek Jeter because he was top of his game, he led with integrity, he stayed below the radar on his personal life, and he gives back. Ryan Reynolds because he can be so funny, sweet but then can turn into a superhero and take charge. 
Rachit Kumar
33, RADIATION ONCOLOGIST
Tell me about your day-to-day. Most of my daytime hours are spent at work from about 7:30 a.m. to 6 p.m., usually caring for my patients but also teaching medical students at the University of Arizona, performing research to improve our ability to fight cancer, and participating in local and national cancer-related committees. On the evenings and weekends, I like to stay active. I exercise, play sports and hike. I also love to travel and make it a habit to visit a new destination every year. Finally, I find time with friends and family invaluable, and I try to maximize these interactions, including recently joining a new book club which has led to many other life adventures.
What do you seek in a partner? A complex answer to a fairly short question: a person who loves my many faults, is not afraid to call me out, recognizes their own weaknesses and works to improve them, is driven to make both their own and others' lives better, and works to build strong relationships with people around them.
What is the most romantic thing you've done for a partner? I planned a 24-hour trip to Rome that was supposed to be fairly simple. It turned into one of the strangest trips possible including escaping from angry Roman shop owners, trying (and almost failing) to find the entrance for a Vatican tour at the 11th hour, and navigating the most treacherous staircase we had ever seen in a sixth-century Catholic monastery while hauling luggage. Despite the craziness, it was incredibly romantic, fun and meaningful for both of us. 
Nora Lındquist
28, DIRECTOR OF JET CARD SALES 
Tell me about your day-to-day. I have been in the private jet industry for 10 years now so I spend a lot of time educating my clients and prospects on aviation so they can make the best decision for themselves and their companies. When I do have free time, I enjoy cooking, hiking, traveling and reading. I get out to Cali a lot to surf. I love being active and am outside as much as possible. I just bought a house, so I am working on that and I am always delving into something new, whether it be a business idea or a new hobby. I love to learn, check out new restaurants and go on fun adventures.
What can you offer a potential mate? My parents have been an excellent example of what love is. They have been married for 35 years now and are still going strong. I believe that love is not just an emotion but a choice, and it is not always easy. I am fiercely loyal, supportive, loving and caring. I want to be a part of a power couple and, therefore, will challenge and inspire my other half. I also welcome individuality and know that you need to have your separate time and hobbies as well. As much as I am independent, I am a nurturer at heart and love to make sure my mate is taken care of and is happy. I am lighthearted, passionate and love to laugh.
Who was your first love? My dad. He is my hero!