Page 7 of 9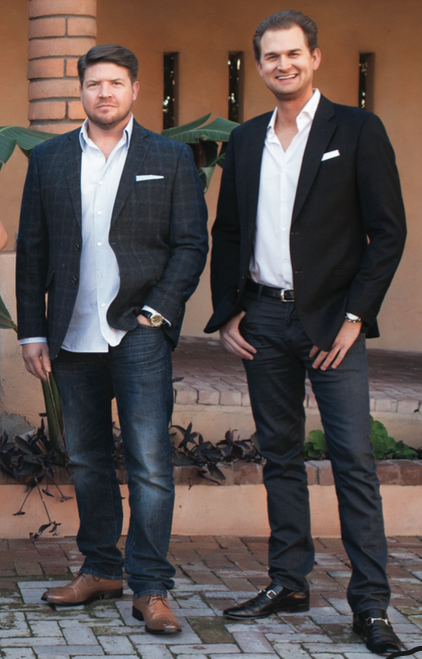 Dan Bowman
38, PROJECT MANAGER AT DREWETT WORKS, PARTNER AT ACTIVE MEDIA SOLUTIONS, PRESIDENT OF SCOTTSDALE LEAGUE FOR THE ARTS @THEDANBOWMAN
What is your dream date? I would have to say my dream date would be a fun private island adventure. Do some exploring, take a boat ride back to an amazing restaurant on the beach where after dinner we would grab a bottle of wine and sit in the sand watching the ocean waves come in. Having the right person there with me is what would truly make it a dream.
What do you seek in a partner? I really like someone who is educated, driven, compassionate and funny. Most of all, I am always drawn to someone who is passionate about learning, passionate about giving, passionate about family, passionate about anything. When someone is passionate, they give so much of themselves, and it really shows me what matters most to them.
What can you offer a potential mate? I am intelligent, driven and have a wicked sense of humor. I have always been a giving and supportive person. Once I am in a relationship, I give everything of myself to that person. I have always had the desire to create a life with someone in the manner that works well for both of us. There is something to be said about creating the life you want. 
Michael Banovac
26, MANAGING PARTNER OF RMB LUXURY REAL ESTATE, INTERNET ENTREPRENEUR @MILLDATEDOCTOR
What is your dream date? My dream date would be more like a dream trip, so it probably wouldn't be the first or second date. I love Southern France and Italy. One of my favorite romantic spots would be drinks at Chateau Eza in Eze, France, as the sun begins to set. There is a table on their private patio that cascades over the Mediterranean 1,300 feet above the sea that will take anyone's breath away.
What can you offer a potential mate? Fun! I am so focused on success during much of the week that when I am with someone I care about, I love the escapism of food, laughter, passion and travel.
Do you hope to get married one day? If the right person came along, I would seriously think about it. Marriage is such an important commitment that I think people treat it so trivially these days. I am certainly in no rush by any means, but I love the idea of respecting, loving and growing old with someone.