Page 3 of 8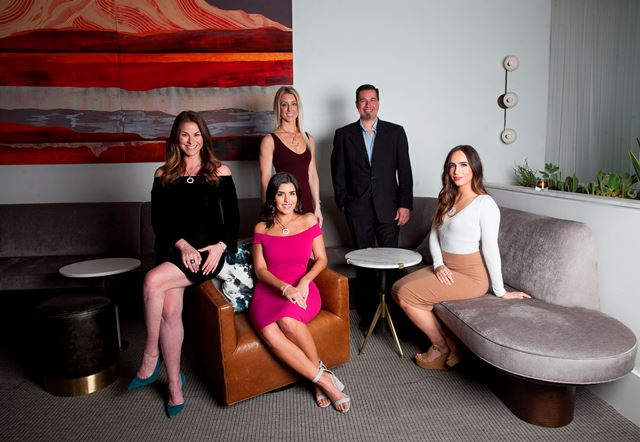 Angelica Negri
Age: 29
Executive Assistant at MVMT Studios
@angelica__negri
I love chocolate and I like mint, but I hate the two of them together.
In the eighth grade, I fell 20 feet out of a chairlift. I was pulled down the slopes on a ski toboggan, rode down the mountain in an ambulance to the nearby hospital, where I was diagnosed with zero injuries! I fell and landed perfectly. I still get nervous riding on lifts to this day.
I believe in chivalry, and I'm a sucker for a cheesy romance.
Ashley Ford
Age: 27
Community Outreach and Events Manager, Kendra Scott
@ash.ford
I moved to the Valley from Austin a little over three years ago. People usually don't think I have an accent until they hear the "y'all"—or until I start to drink.
For my job, I go to a ton of galas and charity events around town. The best silent auction/raffle prize I've won so far was a little three-legged cat. His name is Butters.
I use all five fingertips when I hold a pen. Most people are freaked out by it, but I think it's a smarter way to write—no calluses.
Caitlin Smith
Age: 27
Holistic Wellness Advisor and Founder of Exhale Wellness Studio
@CaitlinCuriosity
I used to be a farmer! My journey to wellness and entrepreneurship began when I co-owned an organic farm out of Tempe when I was 21.
My wishes for a final meal would be copious amounts of pizza and craft beer. Hands down.
I cry uncontrollably when I laugh really, really hard. If you can get a deep belly laugh out of me, you might even hear a little snort or two.
Joshua J. Amonson
Age: 46
Executive Chef of Bourbon & Bones
@JJAmonson
I met President Clinton at the APEC meeting in November of 1993.
I was in the U.S. Coast Guard.
In 1990, I graduated from boot camp in New Jersey and was stationed in New York City during Desert Storm before I went to cooking school in California. I was then stationed in Seattle for high endurance which led to places all around the world. I even received my first humanitarian service metal helping Haitian migrants. I cooked for secret service, all officers on the oldest wooden vessels--the US FIGI BARQUE EAGLE in Ireland, Portugal, Spain, Bermuda and Madeira.
Nicole Myden
Age: 38
Founder, The PR Concierge
@nicolemyden, @theprconcierge
A favorite quote: "The greatest project you'll ever work on is you!"
I believe a person's energy introduces them when they enter a room.
Lover of life, love, adventure, grace, gratitude, spirituality, reading, giving back, great food, good company, my family, my friends and authenticity.