Page 7 of 8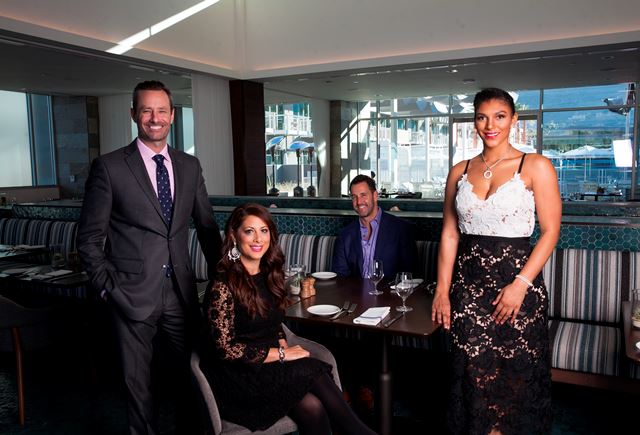 Dr. Meisje Burton, M.D.
Age: 30
M.D., M.B.A. and Resident Obstetrics & Gynecology Physician
@meesha_meisje
I'm equal parts jock and nerd. I was a fully scholarshiped collegiate volleyball player, and during that time, I majored in biology with a double minor in chemistry and Spanish. (I also have my MBA.)
The ocean is my happy place. I learned to surf while studying abroad in Australia, I've been bodyboarding in a hurricane, and I love to scuba dive! My pet jellyfish (Jellius Caesar, Sting and Squishy) bring the perfect touch of the ocean to the desert. I love to travel. I've been to more than 30 countries and will be adding at least two more to the list next year.
Mark Cunningham
Age: 47
Principal/Vice President of Environ, Inc.
@markcunningham0327
Out of all my awards and accolades, I am most proud of my title as dad [of four children ages 20, 18, 16 and 14]. I tend to think one's character can be summed up by the successful launching of their kids to live out their own dreams and desires.
While I have a Mechanical Engineering degree from Arizona State University, I do not wear pocket protectors or hiked-up pants. As a working owner, I am in sales and marketing which brings out the extrovert in me and pulls the introverted engineer out of his shell.
I consider myself old school but not so rigid that I can't be taught new tricks. While chivalry is not dead, it does seem to be on its last legs, and I am doing my part to keep it around for the next generation.
Yasmin Tajik
Age: 45
Photographer
@ytajik
I'm a professional photographer who travels to document humanitarian and social cause stories.
I've played the same piano since I was 4 years old.
I'm still scared of the dark.
Daniel Fitzpatrick
Age: 42
Attorney and Fashion Model with Ford/Robert Black Agency
@beardedfitz
My nickname when I was a baby was "Lumpy" because of the way I wrapped myself up in the blanket. My mom thought I looked like a "lump."
I have been rock climbing and canyoneering for over a decade. Some trips have included Badger Canyon in the South Rim, Bear Canyon in West Clear Creek and Weavers Needle.
I've been painting with oil paints lately. Inspiration comes from my late mother, Betsy Lou, which motivated me to finish my Fitzpatrick Coat of Arms painting done with oil, acrylic and permanent marker.