Page 4 of 11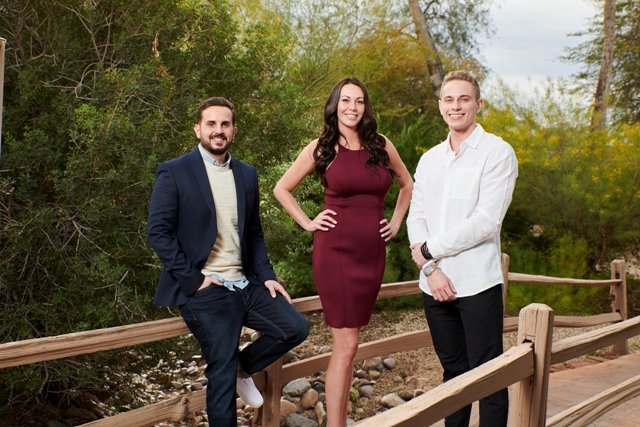 Patrick Sesty
Marketing communications manager at Desert Botanical Garden
Age: 34
@great_patsby
Sesty admires a genuine woman with a great personality, notes one of his favorite gifts as being a T-Rex that lights up in different colors and is looking for a relationship that is as "out of this world" as his dream date.
What is one thing that most people don't know about you?
I've partied at Leonardo DiCaprio's house.
What is your dream date?
We both hop on a rocket and take a day trip to the moon. Because then we both would agree that the date was out of this world.
Jamie Wray
Director of Membership and Marketing at Ancala Country Club
Age: 35
@kelseysmom4
Wray is a woman who has learned to truly appreciate the greater things in her life. Whether it's spending quality time with her daughter or building genuine connections with others through her work, she puts people first and places relationships at the center of her life. She values respect, loyalty and compassion—and as much as Wray values spontaneity, she also wants a partner who is happy to just hang out at home and watch TV.
What's the best advice someone ever gave you?
The grass is not always greener on the other side. This has taught me to appreciate what is right in front of me.
What's the best present you ever gave someone? Ever received?
Time. To me, you cannot put a price tag on time. It's something you cannot get back. I'm also a big fan of writing sweet letters letting someone know they are important. The best gift I ever received was my daughter. She is my motivation every day.
Sam Knight
Fitness influencer
Age: 26
@Samrknight
Knight is a man of great hope, passion and confidence. He sees himself as an open book and strives daily to wear his flaws profoundly—this eliminates the element of surprise and only leaves room for genuine, authentic relationships within his life. His passion for life and self-confidence plays an undeniable role in his love for his work as a fitness influencer.
What do you look for in a partner?
I genuinely believe your significant other should be your best friend (don't confuse this with finding someone exactly like you; they are two entirely different things). I always try to formulate genuine friendships before ever considering taking things further. Humans will always fight, argue and have tough times but, if your significant other is your best friend, then no matter what happens you two can overcome.
What's the best present you ever received?
This may sound corny, but the best gift I ever received was belief in myself. My parents truly installed the belief in me that I could be unique and do whatever I wanted in my life. I do not know when it was, but there was a certain point that hit me where I realized how much I believed in myself. I genuinely think this gift has allowed me to reach new heights and continue to strive toward greatness in life.