Page 3 of 6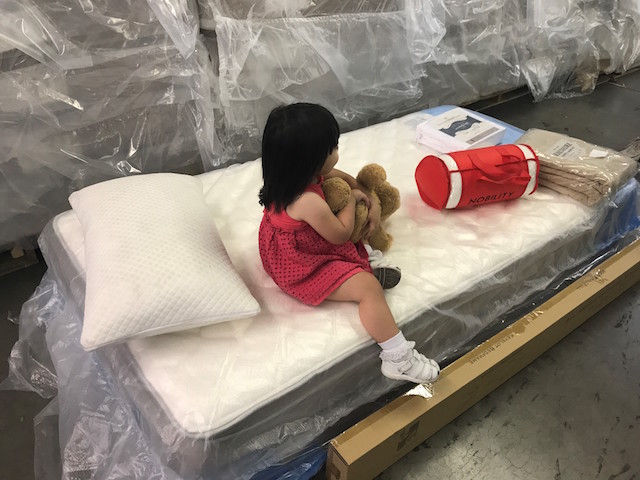 AFM: Tell us about the "basic needs" AHH provides. and tell us about some of the "extras" you provide to kids in foster care.
DS: Our primary focus is beds and cribs, giving kids a safe place to sleep. We provide a twin bed package that consists of a box spring, mattress, set of bed rails, protective mattress cover, sheets, pillow and blanket. We provide new cribs to youngsters in foster care—640 in 2017 alone. A large majority of the cribs go to infants who were born with substance abuse issues and have just been released from the NICU. We are usually the first stop on a foster family's journey, and also provide clothing, diapers and personal care items. With the help of funding from the T.W. Lewis Foundation, we started a program providing home safety items every foster home is required to have. These items include fire extinguishers, smoke alarms, a very specific first aid kit and more. This program removes the financial strain from someone who says they are willing to help as a foster home. In the first year of this program, we provided items to over 1,000 families.
AFM: Tell us about some of the biggest triumphs or successes for the organization in the last year.
DS: My role as the executive of the organization is to friend and fund the organization. We seek out new friends who will connect with our mission and help us find the resources to expand our work. We use social media, along with print and television to increase awareness of our work throughout the community. A recent triumph - last fall we were involved in a social media contest sponsored by the Starbucks Foundation. They ran a campaign in which the top 20 organizations that drew social media attention to their cause would be awarded a $25,000 grant. We finished in the top 10, and received a $25,000 grant last November. We are excited about the fact that our grassroots effort of people just clicking on, viewing and liking these homemade videos resulted in this prestigious award and recognition. We have also established really great partnerships with corporations and continue to push the concept of businesses developing a philosophy of philanthropy throughout their ranks.
AFM: What has been your biggest success with business involvement so far?
DS: Our largest success in that area is with our new partnership with Living Spaces stores. Living Spaces has now done three separate buy-one-give-one programs drives in their stores; where customers coming in and purchasing qualifying mattresses know that Living Spaces will turn around and donate a mattress to give a foster child a safe place to sleep through AHH. They have held three campaigns over the last 12 months and have generated a donation of 1,000 twin bed sets!