Page 3 of 12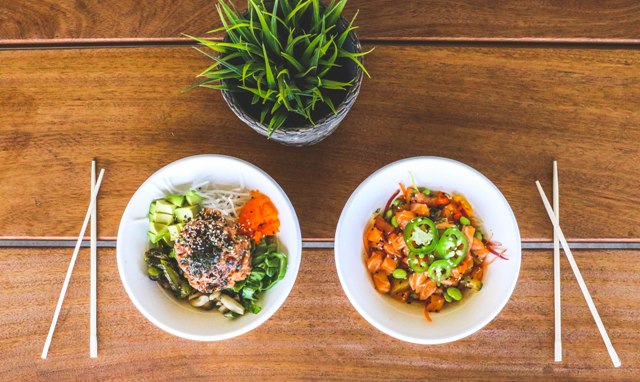 Chula Seafood (pictured)
The poke bowl trend has overcome the Valley, but one spot does it the best: Chula Seafood. In addition to the lunchtime staple, seafoodies can pop in for a rotating sandwich of the day, an incredible smoked fish platter with all the fixings and much more. Be sure to stock on Chula's candied salmon when available.
**Chula Seafood will open an all-new storefront this fall inside Uptown Plaza featuring an expanded menu of line-caught fish and prepared dishes.
For a decadent night on the town, J&G Steakhouse has been one of the most handsome, high-end spots to indulge in high-end steakhouse fare. And come this fall, we can't wait to see the changes the restaurant has in store as it unveils its renovation in time for its 10-year anniversary. The changes include wall treatments, light fixtures and furniture, including a show-stopping glass wall with a gold sculpture treatment added to the Mountain View private dining room. Plus, the patio will offer refinished fire pits and the addition of ceiling fans.
Born and raised in Tokyo, Nobuo Fukuda has cultivated his craft as a chef in Arizona for more than 30 years. Known for his visionary food combinations and masterful presentation, Fukuda's Teeter House offers dishes that simultaneously challenge and honor traditional Japanese cuisine. During daytime hours, Teeter House is reminiscent of an elegant Japanese teahouse—a charming 20th century bungalow with baby blue walls and hardwood floors—then transforms into a funky and lively izakaya by night. The restaurant has a lunch and dinner menu, serving dishes like house-cured salmon, tuna tataki and pork belly buns, as well as a summer bento lunch menu.
Pizzeria BiancoPizzeria Bianco/Tratto
James Beard Award-winning Chef Chris Bianco's eponymous pizzeria, with locations in Heritage Square and 20th Street and Camelback, serves up some stellar slices. The pizzas, which are crafted with ingredients from local farmers, are cooked in a wood-fired oven and rely on the simple knowledge of what makes a superb pizza: great dough, flavorful sauce, fine cheese and the right balance of all three. Tratto, another Bianco gem located at Town & Country in Phoenix, is fresh and beguiling with an ivory color scheme and a full view of the kitchen, complete with shelves full of fresh produce and bottled ingredients. This Italian eatery and cocktail bar channels the spirit of the Southwest with Bianco's dedication to Arizona-grown foods, including dishes like wood-roasted eggplant with caciocavallo cheese and salsa verde.
It's hard to compete with the variety of fantastic Mexican fare in Arizona, but Barrio Café easily stands out as one of the best. The folk art murals on the outside walls are unmistakable, but it's the food created by Chef Silvana Salcido inside that make this Valley restaurant shine. Iconic menu items include the cochinita pibil, chiles en nogada, chef's tableside guacamole and the churro rellenos. Barrio Café offers some 300 choices of hand-selected tequilas, Mexican wines and beers, as well as traditional Mexican soft drinks like horchata and housemade jamaica, a type of hibiscus tea. Guests can also enjoy live music every Thursday through Sunday evening and Sunday afternoons.