Page 5 of 12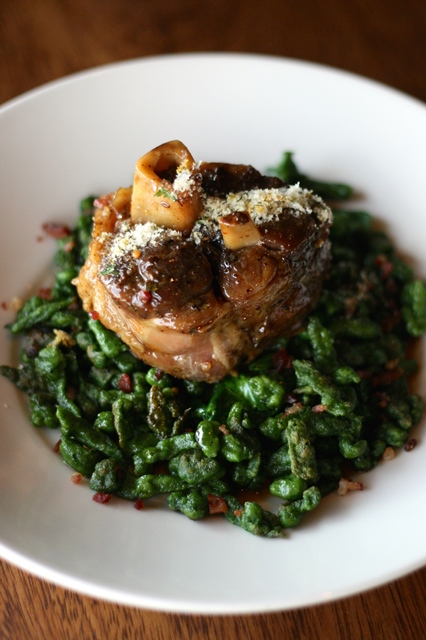 For those in the mood for the uniquely smoky flavors of authentic wood-fired pizzas, look no further than The Parlor on Camelback and 20th Street. Their menu changes seasonally, so you never quite know what toppings and combinations will be available (which is honestly part of the fun). Their summer menu currently offers options like summer corn (roasted corn, roasted chiles, cilantro and spicy crema) and funghi (roasted mushrooms, goat cheese, truffle oil and chives). Happy hour runs from 3 to 6 p.m. daily, where guests can order 8-in. pizzas and a selection of cocktails for $8 each, or $2 off sangria, draft beers, well liquor and glasses of wine.
Beckett's Table (pictured)
Comfort meets sophistication at Beckett's Table in East Phoenix, a culinary creation dreamt up by four friends—Chef Justin Beckett, his wife Michelle, and sommeliers Katie and Scott Stephens. The result: an elegant restaurant heightened by its genuinely warm hospitality, superb New American cuisine reminiscent of a home-cooked meal, and an expansive collection of hand-selected wines from Arizona and beyond. And the cocktail menu simply can't be overlooked: the seasonal Perfect Pear, a simple blend of Lillet blanc, pear simple syrup and lemon juice with thyme garnish, is phenomenal. Every Wednesday is BT Bottleshock Wednesday, where guests can taste unique wine by the glass from Beckett's Table's secret wine list, normally only available by the bottle. Stay up to date by searching #BTBottleshock on Instagram.
Los Sombreros is a cantina-style restaurant in Downtown Scottsdale whipping up authentic dishes from central Mexico in a relaxed, easygoing atmosphere. Everything from tamales to enchiladas to chile rellenos are available to satiate your cravings for something spicy, and they have a brunch menu, too (check out the torta de pollo or the Mexican-style French toast). The patio is a favorite hangout spot and happy hour runs Monday through Friday from 3 to 6 p.m., where restaurant-goers can order $3 cervezas and house, mango or strawberry margaritas for $6, among other libations.
A pizza-style originating in Campania, Italy, foodies can enjoy Neapolitan pizzas at Pomo Pizzeria, which has locations in Scottsdale, Phoenix and Gilbert. These pies have gratuitous amounts of tomato sauce and fresh mozzarella, making for a soft, slightly wet texture toward the center—but don't fret, this is the mark of a truly spot-on Neapolitan pizza, so you know you're getting the authentic experience. Pomo's handcrafted pies use slow-rising sourdough with highly refined organic wheat flour from Naples, proofed for a full 24 hours and stretched by hand, then cooked in a wood-burning oven at 905 degrees.
Blue Hound Kitchen + Cocktails
Chic and lounge-y Blue Hound Kitchen + Cocktails is the epitome of cool amidst the bustling cosmopolitan streets of Downtown Phoenix. Blue Hound offers seasonal New American cuisine paired with handcrafted cocktails by passionate bartenders, including sherry, vermouth and table wine, as well as one of the Valley's most extensive menus of brown spirits. Indulge in crispy, savory corn grit fries, snack on shishito peppers with Sriracha aioli, or savor the blackened salmon with garden vegetable and Meyer lemon in an atmosphere of warm, ambient lighting and deep, dark woods. It's also the Year of the Dog in the Chinese zodiac, and the restaurant recognizes this through a sizeable cocktail compendium.