Page 7 of 12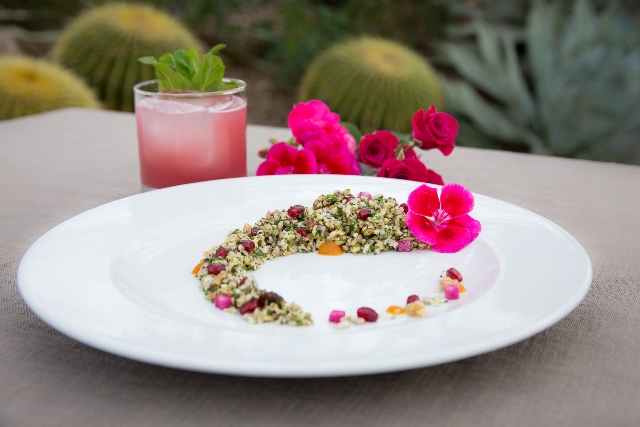 ZuZu at the sophisticatedly spunky Hotel Valley Ho makes us jump for joy—and it's definitely not just for the $10 unlimited mimosa and Bloody Mary bar. Between the fantastic weekend brunch with items like red velvet waffles and brioche french toast and dinner entrées like truffle stuffed petaluma chicken breast, ZuZu is a colorful, lounge-style space, often with jazzy live music in the lounge during the evenings. And the lounge stays open until midnight, so guests can keep the good times going. Happy hour runs Monday through Friday from 4 to 7 p.m., including $6 signature cocktails and $6 featured red or white wine.
**Don't miss out on ZuZu's ever-changing Showstopper milkshake—an over-the-top dessert that you'll want to 'gram before digging in.
Chef Scott Conant's Italian delicacy is a delightfully elegant affair. Bright red seats, brass chandeliers, brick walls and distinctly warehouse-style wooden ceilings make up this modern, upscale space, which serves handmade pasta, Neapolitan wood-fired pizza, antipasti and other entrées. Simplistic though it is, the pasta al pomodoro is divine, with a richly flavorful, slightly creamy tomato basil sauce; be sure to pair it with a glass of the Sangria Mora, an infusion of blackberry, house sage brandy, passion fruit and table wine. Or channel your playful side with the rosé snowcone.
Tomaso's may be located in the prestigious Camelback Corridor and Biltmore area in Phoenix, but once you step inside, this chic Italian restaurant transports guests straight to Italy. The restaurant, which opened in 1977, was dreamt up by culinary maestro and Italian-born chef Tomaso Maggiore (family-operated The Maggiore Group has a host of excellent establishments across the Valley). And Tomaso's When in Rome, a culinary concept branching off the original restaurant, is defined by superb cuisine inspired by the Eternal City, with refined yet relaxed vibes.
Offering up tapas-style plates, Twisted Grove Parlor + Bar is perfect for a group looking to share and experiment with a wide variety of flavors. The eatery, which has locations in Scottsdale and Phoenix, has an upbeat, contemporary bar-style feel to it and great patio seating, namely at the Scottsdale spot. Options for small plates include salmon poke, California artichokes, French onion soup and shishito peppers, or go your own way with full-size dishes like cavatelli carbonara and Tuscan pork porterhouse. Top it off by treating yourself to a strawberry bellini (Steorra sparkling wine, homemade strawberry purée and vanilla sugar rim).
Gertrude's (pictured)
We think it's pretty safe to say that brunch is the best meal of the day. The brunch menu at Gertrude's encompasses locally grown, seasonal ingredients whenever possible and delights with simplistic dishes with beautiful presentation. Named for environmentalist Gertrude Divine Webster who founded the Desert Botanical Garden, the restaurant is located just inside the entrance to the garden, so you can make brunch or dinner a full-fledged outing. And have a little extra fun with the variety of pink cocktails offered, like the Tombstone Tea, rosé sangria and the Garden 'Rita (margarita), or the berry-basil lemonade (safe for all ages).