Page 12 of 12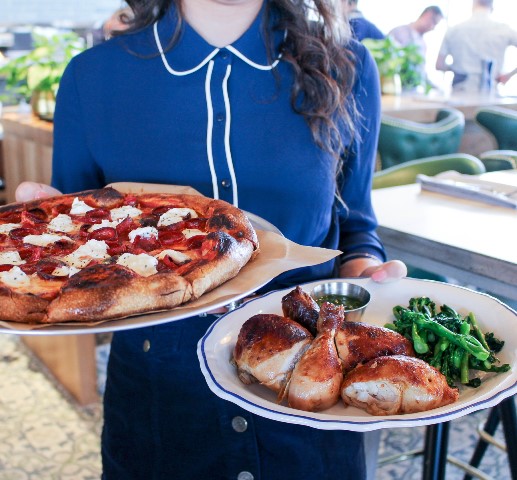 When tummies start rumbling around the office, here is where the AZ Foothills staff can be found.
"Sapporo is my go-to spot for a wow-worthy teppanyaki experience. It's cool, sexy and perfect for date night or group celebration. Spiga: the chicken parmesan is by far the best I ever had in my life and the portion is much more than needed; I am always taking some home. DC Ranch Country Club has one of the best burgers, hands down. Four Seasons Scottsdale at Troon North is my favorite to enjoy a seafood app along with a signature martini with my beautiful wife as the sun sets." –Michael Dee, president and publisher
"My favorite restaurant in the state is Pizzicletta, a no-frills gem in Flagstaff that offers the most magical dining experience. The pizza is insanely delicious—I usually opt for the daily special—and there is something so special about being warmed by the wood-fired oven when snow is falling outside. And don't snooze on the delicious apps.
My family are regulars at Joe's Farm Grill. It is this lovely slice of heaven with picnic tables, grass for energy-packed kiddos and great burgers and shakes. Then, dessert is a glitter-topped cupcake from the Coffee Shop at Agritopia a few steps away.
My husband and I love spending a free night with Fire and Brimstone's namesake pizza on the super-laidback patio of next-door 12 West Brewing. Because pizza and beer.
And though not a restaurant, my favorite date night is enjoying a pint at Wren House while playing a game of Battleship. The ambience at Wren House is like a relaxed house party—welcoming and packed with friends, but the beer is way better. I love any of the Wally releases." –Melissa Larsen, AZ Foothills editor in chief
"Diego Pops. Three words: Brussels. Sprouts. Nachos. Sounds weird, tastes amazing. Plus, I like to pretend I'm being healthy with a dose of veggies (nevermind the mountain of cheese). Super cool décor, snow cone margaritas and happy hour seven days a week…what's not to love?
Canal Club. This Havana-inspired eatery inside The Scott Resort is what my design dreams are made of. Well, the whole resort is, if we're being honest. Their libation list is to die for; I'm a big fan of the smoky, mescal-fueled Salt River Society.
Chula Seafood. It may not look like much from the outside but Chula is hands down the Valley's best seafood spot, IMHO. Do yourself a favor and visit ASAP for one of their fresh-off-the-boat poke bowls or ooey-gooey green chile tuna melts (available on Wednesdays only) and then thank me later.
Shift. This Downtown Flagstaff gem has a killer cocktail program and insane menu that changes daily. It feels like a casual yet chic San Francisco cafe (think lots of white subway tile, modern décor, intimate dining room), and the staff treats every customer like family. In fact, on my last visit the chef gave me a box of local mushrooms he foraged himself after I mentioned how amazing they were in the featured dish.
Elote and Mariposa. I was born and raised in Sedona, meaning I've eaten at 99.9 percent of the restaurants in town, so trust me on this one. Two major Sedona standouts are Elote and Mariposa. Elote is totally worth the two—or more—hour wait, and you can't get a more picturesque Red Rock view than Mariposa." –Karah Van Kammen, director of communications and marketing
"One of my favorite local spots for feel-good Italian food is Rigatony's. I also love Doughbird (pictured) because I'm a sucker for their chili oil; it's good on everything! And one of the best meals I've had in the Valley was at Different Pointe of View during their wine dinner series." –Suzanne Koch, InMexico editor in chief and AZFoothills.com writer