Page 10 of 12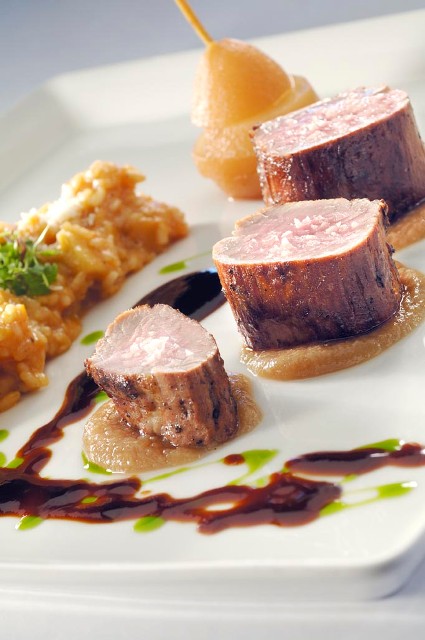 Different Pointe of View (pictured)
Nothing says "date night" quite like Different Pointe of View at Pointe Hilton Tapatio Cliffs. The Valley city-light views, the upscale eats, the first-class service, the must-attend winemaker dinners—the AAA four-diamond restaurant has made its mark in local dining history for more than 35 years. There is a reason why weddings are hosted here on the regular.
At this no-frills market/restaurant in Scottsdale, the emphasis is on authentic, quality eats that can be enjoyed in a comfortable atmosphere. The porchetta sandwich is an utter dream, though you can't go wrong with the pasta of the day. While there, peruse the market for take-home ingredients you can't find anywhere else—oh, and don't forget a sfogiatelle for breakfast the next morning. Or to eat in the car on the way home because you simply cannot wait.
You'd be hard-pressed to saunter into a True Food Kitchen and be seated immediately (Oprah is a fan, for Pete's sake!) The restaurant's two Valley locations—Scottsdale Quarter and Biltmore Fashion Park—are always bustling with diners in search of healthful eats, morning, noon and night. The rainbow-hued crudité, organic kale salad and lasagna Bolognese are forever favorites. And we can't get enough of the refreshing mocktails that make you and your Instagram feed both feel good.
Tarbell's serves a unique variety of seasonal seafood dishes, from Georges Bank scallops to butter-poached lobster, as well as fixed menu items like pan-roasted chicken and center-cut tenderloin filet, for a casual upscale dining experience. And the housemade desserts are not to be ignored: an extensive menu that would make any sweet tooth's head spin, treats like the profiteroles (cream-filled French choux pastry with vanilla gelato and ganache) and cheesecake with rosemary caramel sauce are perfectly decadent and just the right amount of excessive. The barrel-aged cocktails also make a bold statement—Tarbell's Top Shelf Green Point is Tarbell's Whistle Pig 12-year blend, Carpano Antica and Yellow Chartreuse, aged for three months.
The enchanting, glowy ambience of Vincent on Camelback is almost fairytale-like, perfect for an evening out for two. Providing impeccable service since 1986, Vincent on Camelback serves fine French cuisine while incorporating Southwestern ingredients. Stone wall accents and simple crystal chandeliers set the tone of Chef Vincent's culinary vision of classically prepared haute French cuisine blended with the zest only the Southwest can muster. For more laidback dining, guests can mosey over to the Vincent Market Bistro for lunch, dinner or Sunday brunch, directly adjacent to the main restaurant.