Page 3 of 5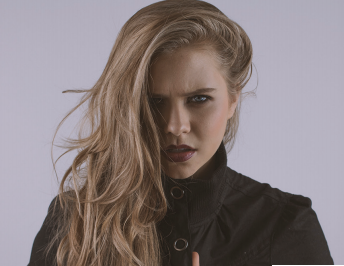 FACE OF FOOTHILLS: TAYLOR MULHOLLAND
Instagram: @TaylorMvlholland
Taylor Mulholland is unpredictable and hard to read—even for a 19-year-old—yet undeniably balanced. She endures 80 minutes of soggy hot yoga and can hike a mountain like nobody's business, but she also lounges couch-potato-style watching "Saturday Night Live" marathons. She has graced the Phoenix Fashion Week runway draped in couture but will still walk her obese Australian Sheppard barefoot and ferment her own Kombucha. "It's good for your gut health!" she says.
Mulholland is an avid self-love promoter and values the ability to say "no" when her mind and body want a break, but she's also the type to persevere and accomplish her goals.
When she was rejected from her current modeling agency two years ago for improper measurements, it only took her two months to shape up and get signed. "I like being challenged," she says. "I don't like to prove people wrong, but I like to prove that I can do it." Winning the Face of Foothills competition, she says, is just one more "confirmation [that] with perseverance, you can do it."
While she knows she's worked relentlessly to get where she is, she repeatedly thanks her family, God and her Christian faith for the support and guidance she has received. In the coming years, Mulholland plans to take that positivity into the acting world and book modeling gigs that allow her to travel. –Taylor Seely
FAVORITE LOCAL FOOD SPOT: Pomegranate Café in Chandler. It's 100 percent vegan, organic and raw.
GO-TO COMFORT FOOD OR CRAVING: Coconut milk ice cream.
FAVORITE MAKEUP BRAND: Tata Harper. They have an awesome face mask that makes my skin feel baby-butt smooth.
MODEL ICON: Cara Delevingne. She's just so crazy and wild; I love that about her.
HOW DO YOU WANT TO BE REMEMBERED: Being silly and weird and a giant hippie. Being gentle and caring to the environment. Fun and quirky.
ONE WORD TO DESCRIBE YOURSELF: Crazy. Everyone calls me crazy and, honestly, I accept it.