Page 4 of 6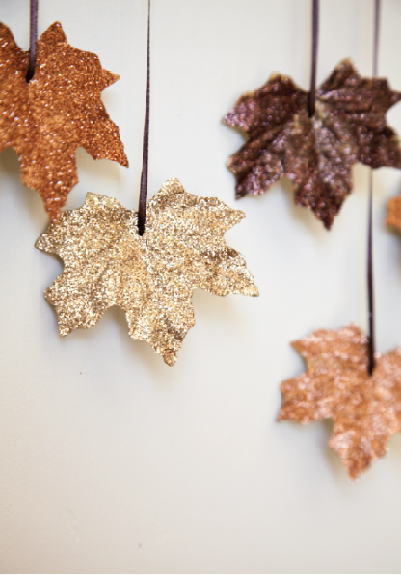 Glitter Falling Leaves Garland
For some sparkle in your fall decorating, this is an ideal craft! It brings a pretty and shimmering appearance to the fall leaves.
Items:
Decorative leaves
Glitter (unless they already have glitter on them)
Craft glue (again, unless there's already glitter on them)
Ribbon
Hole puncher
1.) If you don't have pre-glittered leaves, take your decorative leaves and apply glue to them.
2.) Pour glitter over the leaves and let it set, then you can shake off excess glitter.
3.) Get a long piece of ribbon, any design you'd like, to use as a holder/base for all the leaves.
4.) Have more pieces of ribbon that are smaller (or vary in length) that you hold the individual leaves with.
5.) Punch a hole at the top of each leaf to tie the smaller ribbons through.
6.) Tie each leaf (that now has the smaller ribbon tied to it) to the longer ribbon that's used as the holder/base.
7.) Put the falling leaves on a wall or anywhere else you'd like!
Courtesy of: http://www.houseofjadeinteriorsblog.com/2013/10/diy-falling-leaves-garland.html