Page 2 of 6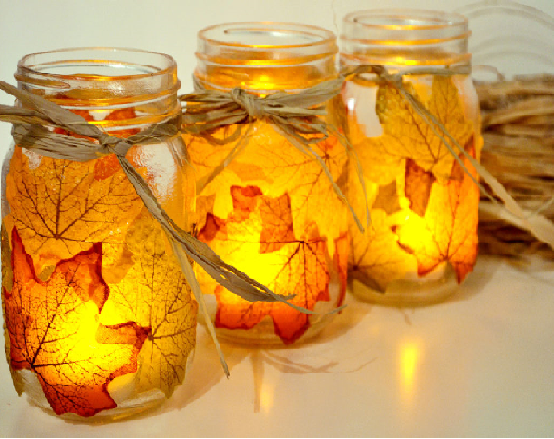 Fall Leaf Mason Jar
This craft is very simple (even if you're not too crafty) and adds a cute touch for fall! Just five items are needed to complete it.
Items:
Decorative leaves
Mason jar
Craft glue (such as Mod Podge)
Candles (battery-operated)
Raffia ribbon
1.) Take fall leaves that you can get from many stores (fake ones can be simpler to work with) and bend them a little bit so it's easier for the leaves to form around the jar.
2.) Make sure the jar is clean so everything sticks better, and start to apply some of the glue where you want to place a leaf.
3.) Place the leaves wherever you'd like on the outside of the jar. Make sure they're pressed on enough and then let the leaves set.
4.) You can add any other touches you would like. As seen in the picture, you can tie raffia ribbon around the top.
5.) Add a light source, such as battery-operated candles.
Courtesy of: http://sparkandchemistry.com/blog/leaf-mason-jar-candle-holder/