Page 1 of 5
This month, we celebrate Father's Day, giving recognition to our father figured for their advice, selflessness and unconditional love. Meet five dads who go the extra mile in fatherhood.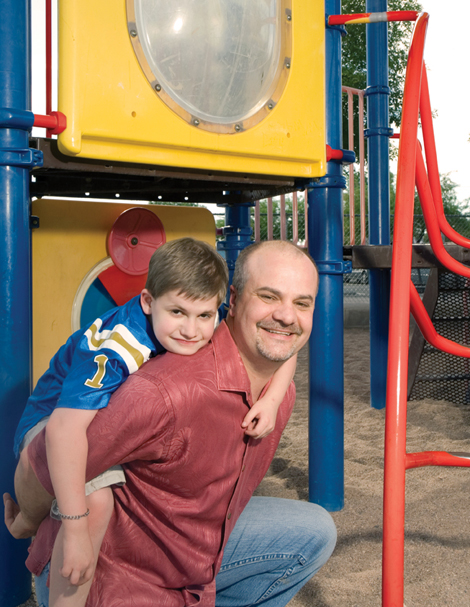 Like most proud fathers, Timothy O'Connell simply glows when chatting about his 9-year-old son, Aeden. One glance and you'd pin him as your average, fun-loving dad—but rather than supporting his son just until adulthood, Timothy's fatherly duties will span a lifetime. Aeden was born with a rare, genetic defect called DiGeorge Syndrome, leaving him with a deformed heart and stomach (he must be fed through a G-Tube), mental delays and other complications. A mother's touch would have helped to handle these disabilities, but Timothy's wife left when Aeden was just 3 years old, making him responsible for raising a special needs child on his own.
Putting Aeden's best interests first, Timothy, now a single dad, moved them out of their large custom home and into a four-bedroom condo in Mesa—one that was near bus stops, grocery stores, schools, the soon-to-be Metro Rail and possible future employment—all important criteria for Aeden as an adult. "You start thinking about what if something happens to me. You just have to think that way, and most parents don't. Most parents say, 'My kid's going to go to college and then I'm done.' I will be taking care of [Aeden] for the rest of my life," Timothy says.
Those lifelong duties include providing financial support, and after a long, lucrative career in the technology industry, Timothy no longer had the luxury to work long hours and travel for business. "I needed to change something. Trying to take care of my little guy and trying to have a professional career was insane," he says. "I had to do something that afforded me a lot of flexibility. The only way I was going to get that flexibility was to own my own business." Given Timothy's outgoing and giving nature, the business he was about to embark upon would undoubtedly showcase those qualities.
After continuing his career in technology locally for one year after making this choice (and spending a limited time in the office each day to accommodate Aeden), Timothy was inspired to start Southwest Concierge in 2005—a convenience-based service that continues to grow, today serving 14,000 clients spread across 30 Arizona condo, apartment and business properties, as well as newly-acquired national contracts. Now, instead of traveling or rushing to and from work, Timothy's main office is run out of the downstairs of his home, with his and Aeden's rooms upstairs. Such career flexibility (and the help of a personal assistant) affords Timothy the ability to schedule his day around Aeden's needs: doctor and hospital appointments, physical therapy, occupational therapy, speech therapy and anything else that may come up.
Timothy bursts with excitement when showing off photos of his adorable little boy and describing their fun outings; it's clear Timothy wouldn't change a thing about his son and their life together. "Aeden is remarkable in that he allows everybody to be themselves," he says. "Once you accept him for who he is, you realize he's a really great person."
Indeed, Aeden is a one-of-a-kind kid with a unique dad to match. "[Aeden] just wants to be a good person, so you take that and you help him become that," Timothy says. "He's just got a heart the size of a planet." —A.S.