Page 2 of 4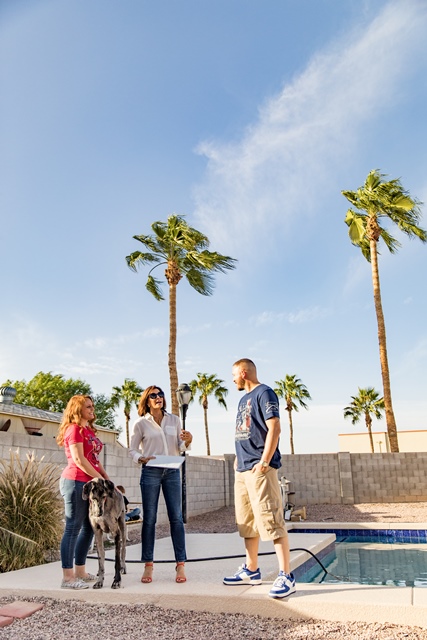 What inspired you to partner with Desert Schools for the "Love My Home" sweepstakes?
I was very impressed by Desert Schools' commitment to their members coupled with their involvement in their community. A financial institution that gives back is pretty rare.
Why is April a deserving winner?
I'm sure there were many deserving contestants hoping to win, but April was the lucky one. I love that she and her husband didn't decide to buy a fancy car, or go on an expensive trip, but chose to spend the money on something that would benefit the boys, and the family - a swimming pool! The children will be outdoors with friends and family instead of indoors on electronic devices. It's going to be a gathering spot for entertaining, and a romantic place to enjoy the big sky at night after a long day's work.
What advice did you provide April to enhance her home?
We talked about creating a functional laundry room in what is a very tight space; a loading and folding area. We talked about raising the washer and dryer off the floors to eye level for easy access with a deep drawer storage system area beneath and shelving above. We also talked about the storage closet on the wall in the master bedroom, and I talked her out of shelves above the toilet!! I think I convinced her to repaint the hall, bedroom and bathroom in a lighter color. The biggest challenge is landscaping the huge backyard. I helped them to imagine the big picture for landscaping but done in a series of phases.