Page 4 of 5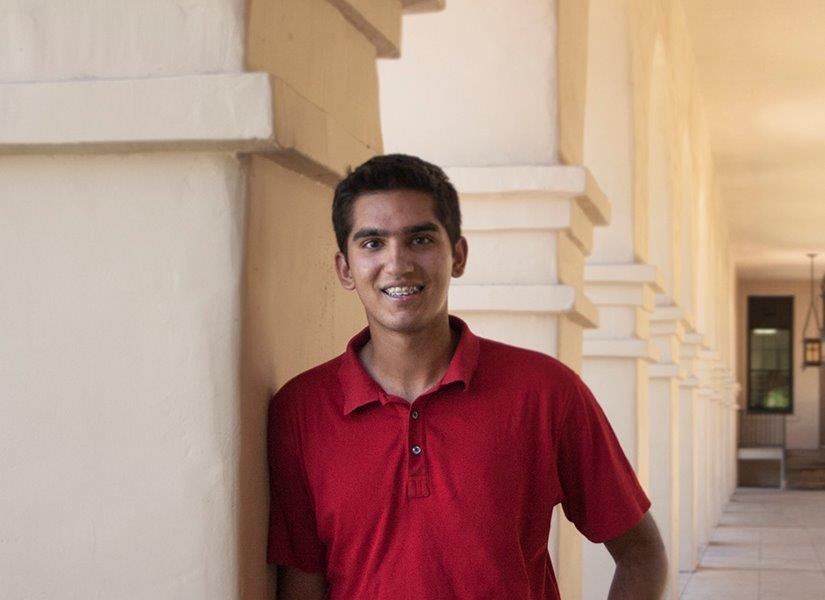 Rajet (Raj) Vatsa
What do you like most about Brophy? What do you like least about it?
The most special aspect of Brophy is the tightly-knit community and sense of brotherhood. I am so thankful to know that I have 1,300 brothers on campus who are always there for me and for each other. It is so beautiful to see students and faculty come together in prayer in times of sorrow and rejoice in times of celebration and happiness. Brophy helps foster this strong support structure which unites everyone in a mission to act for the greater glory of God. I feel so humbled to be a part of the Brophy community and know that I will always remain a Brophy Brother.
The thing that I like least about Brophy is my knowing that I will have to leave this amazing place after my four years as a Bronco. I have come to love and appreciate each and every aspect of Brophy over my first three years here. The teachers, staff, and students are so compassionate, generous, and loving, and I will miss immensely when I move on to college.
Who is your favorite teacher and what is your favorite subject?
Over the past three years, I have been blessed with such amazing teachers. They have always been there to guide me when I am in need of help and have supported me in each and every endeavor I pursue. However, if there was just one teacher I had to choose, I would pick Mrs. Lenox, my freshman year biology teacher and my science bowl/quiz bowl coach. Mrs. Lenox has been so encouraging and supportive of me these past three years, and I am so grateful for her guidance.
My favorite subjects at school are math and science. I have loved the sciences ever since I was in pre-school, and I definitely hope to pursue a career in math or science in the future.
How did you hear about Brophy?
I first heard about Brophy from my friends in middle school. As I had recently moved from Michigan, I was not too familiar with local high schools. However, I shadowed at Brophy during my eighth grade year and knew that very day that Brophy was the place I wanted to spend the next four years of my life.
How has Brophy changed your life?
Brophy has changed my life in so many ways. It has blessed me with a lifelong family of students and teachers whom I will never forget. However, I am most grateful to Brophy for allowing me to further explore my faith and strengthen my relationship with God. Brophy has instilled in me a genuine desire to serve those around me and live by the principles of the five graduate-at-graduation qualities. Through the retreats and immersion opportunities, I have been blessed with such valuable teachings. Ultimately, I hope that I can integrate all of these lessons in my life to truly become a man for others.
What did/does your family think about Brophy?
My family loves Brophy as much as I do. My parents are so grateful for all of the values that Brophy instills in its students and are extremely appreciative of Brophy's commitment to social justice. Moreover, from an academic standpoint, my parents believe that Brophy provides the best resources in the state for students to succeed.
If willing, please tell us a time in your life that was particularly difficult for you and how you were able to overcome it. Was the Brophy community apart of helping you get through it?
Earlier this year, I had the opportunity to travel to Brophy's retreat center in Manresa for my Magis retreat. Those three days I spent at Manresa were among the most moving of my time at Brophy. At one point on the retreat, I had the opportunity to share my stresses and talk about the things that were burdening my life. I will never forget how quickly my brothers on the retreat consoled me and helped me overcome those tensions. It was a beautiful testament to the strength and permanence of the Brophy brotherhood.
What would you tell other boys who are interested in Brophy?
The best advice I have for students interested in Brophy is the same advice my Big Brother gave to me when I first stepped on campus: don't simply come to Brophy at 8:00 in the morning and leave at 2:45 in the afternoon. Four years at Brophy is not enough to experience all of the gifts that the school has to offer. Thus, maximize your time as a student. Join clubs that you would not normally join and explore the myriad opportunities, classes, and resources available. You will come to love Brophy so much and realize that Brophy is your home away from home.
Do you have a favorite memory of Brophy?
I have so many wonderful memories of my time at Brophy, but the ones I most cherish are the retreats, especially my Freshman Retreat and my Magis Retreat during my junior year.
What will you miss most about Brophy?
The aspect of Brophy that I will miss the most is the brotherhood. However, the beautiful thing is that all of my peers at Brophy will be my brothers for the rest of my life. We are such a strong and resilient community, and I know that we will always be there for each other in our thoughts and prayers.
What college or university do you plan to attend?
Currently, I am not sure what university I plan to attend. I am still exploring all possible options, but I would love to go somewhere on the East Coast and attend a school with a strong academic focus.
What are your plans for the future?
Immediately after Brophy, I aspire to study molecular biology or biochemistry at the university level. I then hope to study medicine and specialize in neurosurgery. It has always been my dream to be able to provide free medical care to individuals in developing nations around the world as a way to integrate my love for science and my passion for service. Later, I would also like to work with students and teach at the collegiate level.
What do you think Brophy has already done for you?
The following is a blog post that I wrote for the Brophy Admissions Office earlier this year. It explains a lot of what I hoped for from Brophy and what Brophy has already done for me:
When I began the high school search three years ago, I remember being overwhelmed at times at the abundance of opportunities there were and the decision that I would have to make about where I wanted to go to school. However, Brophy always stood out to me as the place that I wanted to spend the next four years of my life. When I applied to Brophy, I knew that I was looking at a school that provided the best academic, athletic, and fine arts programs in the state. As a junior this year at Brophy, I can say without hesitation that Brophy has exceeded my expectations in every single one of these areas.

My teachers and counselors at Brophy are remarkable. They are always there for support and guidance. I am in awe of how much the faculty at Brophy cares for it students. It goes out of its way to provide assistance and fosters an environment that allows every student to grow. Academically, the classes at Brophy are a hallmark of the school. Brophy is as hard as a student makes it for himself, but I strongly believe that Brophy does a great job encouraging its students to take challenging and rigorous courses. There are an abundance of opportunities for students of all skill levels. The class sizes are also suitable for active class discussions and teacher-student interactions. Peers also play a critical role in the classroom, and since my freshman year, I have benefited immensely from collaborating with likeminded individuals who have motivated me to work to the best of my abilities.

I have also grown as a result of the many extracurricular activities that Brophy provides its students. Whether these are academically-, athletically-, or service-oriented, they allow students to try new things and enjoy doing what they are most passionate about. Last year, I was able to start my own club at Brophy known as Brophy buildOn, and within nine months, my team raised $30,000 and traveled to a rural village in Nicaragua during the summer to build a school.

However, perhaps the aspect of Brophy that I most cherish is the sense of brotherhood. It is amazing to see how easily students put aside their differences and embrace one another. Brophy also does an incredible job reinforcing this spirit with retreats and programs through the Office of Faith and Justice. In closing, these last three years at Brophy have undoubtedly been the best of my life. Brophy is and always will be my home away from home. A.M.D.G.