Page 2 of 5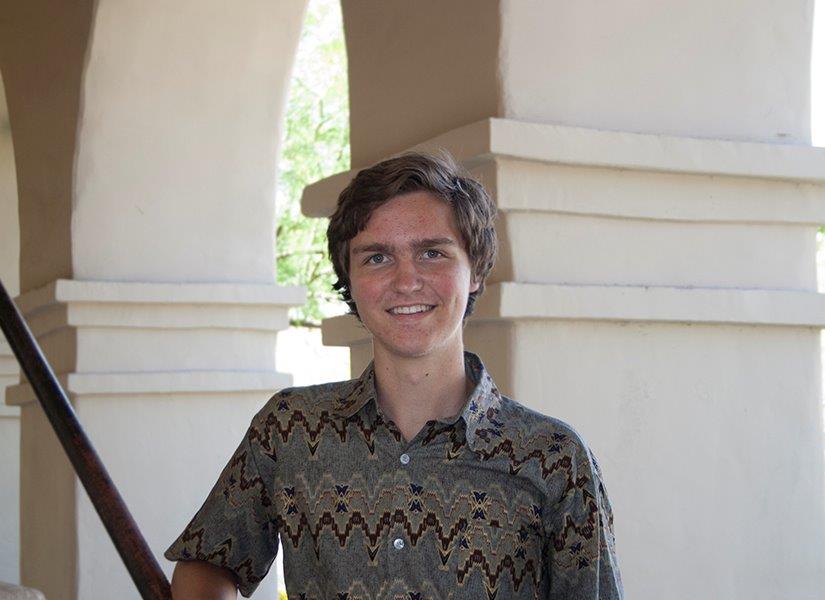 Mason Swierenga
What do you like most about Brophy? What do you like least about it?
The thing I like most about Brophy is the absurd number of clubs and organizations and projects there are to get involved in. At the beginning of freshman year, I wouldn't have guessed that I would be traveling the world with guys from every grade. Playing intramural basketball at lunch wasn't really something that had crossed my mind before coming to Brophy, but it's an amazingly fun, occasionally exhausting, experience where I got to know some of my best friends here. To think of some of the things that I am involved in and realize that it's only the tip of the iceberg can be overwhelming at times, because I feel like I'm missing out on something if I'm not helping out with the Loyola Academy guys or discussing government policy at a Young Democrats or Teenage Republican meeting. It's incredible to see all that goes on here and to be able to always have something new and unique to talk about with friends who are doing different things around campus.
I don't always like to use my tablet. It's definitely nice to use and speeds things up in the classroom, but it can be distracting and disruptive at times. It's never fun to be in the middle of an essay submission or studying for a test when the computer decides it needs to update for the next 30 minutes. It's usually only a minor setback but it can be frustrating.
Who is your favorite teacher and what is your favorite subject?
Not to exclude any amazing Algebra 2 or US History teachers, but I would have to say my English teacher, Mr. Damaso, is my favorite teacher. I had his class sophomore year and was lucky enough to have him teach my English class again this past year. He has the most authentic enthusiasm for his class that I have ever experienced, which almost forces me into having a similar appreciation for the different literature we read in class. That being said, English is my favorite class. There is always a different interpretation to find in a reading and there aren't too many dull moments in class.
How did you hear about Brophy?
One of my friends had a brother who was going to Brophy when I was thinking about high school and the more I heard about Brophy and looked into attending, the more it really stood out from some of the other options I was thinking about.
How has Brophy changed your life?
I don't think Brophy changes lives; I could go here for four years without being much different on graduation day as when I nervously walked into my first English class with Mr. Middlemist. I think the important thing to recognize is that change has only happened in my life at Brophy because of the Immersion trips, Magis and Kairos retreats, time spent in Ms. Parise's office, along with many other things. These experiences, which are incredibly important to take advantage of, have allowed me to feel and be a part of a communal brotherhood that comes naturally from honest discussion on retreats and from humbling experiences, whether on campus or in a village in rural Nicaragua. The change that I have most poignantly felt is the potential I see in so many of my classmates to become very close friends rather than strangers I see in the halls.
What did/does your family think about Brophy?
My dad is interested to hear and read about different Brophy events and he is always excited to hear about student involvement in different activities. My brothers are often shocked at the places my friends and I travel to on immersion trips and the experiences we have in those places. It's definitely unusual for a high school to have so many travel opportunities and my whole family thinks it is awesome that I am able to have these experiences so early.
If willing, please tell us a time in your life that was particularly difficult for you and how you were able to overcome it. Was the Brophy community apart of helping you get through it?
The most difficult time in my life started a few days before second semester of freshman year. I was getting ready to come back to Phoenix from winter break when I got a phone call from the police saying my mom was being rushed to the hospital. About two hours later, my dad got a call saying she had died of a pulmonary embolism. I didn't return to school the next week, but I was constantly receiving texts, emails, facebook messages, and phone calls from hundreds of people in the Brophy community. When I came back the following week, my classmates and teachers helped to make the rest of the year tolerable. The counselors were immediately willing to talk with me and I was able to learn from many other students who had gone through similar events.
What would you tell other boys who are interested in Brophy?
Come to campus and check it out! Stop in Mr. Kelly's room to check out some sick ceramic pieces, sing some Taylor Swift with Coach Fuller, and grab a fresh, delicious, homemade, chocolate chip cookie from Mrs. Triplett in the Varsity Shop. There are so many great people to stop and talk with and you'll be able to learn a whole bunch about the school just by listening to them.
Do you have a favorite memory of Brophy?
I have to go with May the Fourth Be With You festivities on this one. Typically, I like to dress myself in the finest Han Solo outfit I can find in my brother's closet and equip myself with a purple lightsaber. It's a fun day to mess around and shift my worries from my next History test to the next victim to have the misfortune of crossing the path of my lightsaber.
What will you miss most about Brophy?
I will miss watching basketball games. Most Brophy sports have incredible student sections, but to feel all the energy packed into the gym is something none of the other games can replicate for me.

What college or university do you plan to attend?

I've been looking at a few Jesuit Universities over the last few months, mostly: Loyola Chicago, Regis University in Denver, and Seattle University. Hopefully I'll be able to continue my run with the Jesuits at one of these places.
What are your plans for the future?
I have zero plans for the future, if you can think of something fun, shoot me an email. I've been involved in different social justice centered activities, so it makes sense to continue something along those lines in college and farther into the future, but I am not entirely sure what I want to do in the future.
What do you think Brophy has already done for you?
Brophy has made me more comfortable with so many different kinds of people. Any preconceived thoughts I've had about any one group of people have been drastically changed by either simple interactions or by sharing in retreat experiences with them. It has helped me to get to know people I would have pushed away otherwise.