Page 1 of 2
Television personality and AZfoothills.com columnist Nadine Toren is scouring the area, finding savvy Valley features, bringing readers "on the scene." Every day she'll introduce you to celebrities, athletes, and give you an inside look into local events and hot spots. She'll touch on topical issues, and keep AZ fans posted on all the big talkers around town.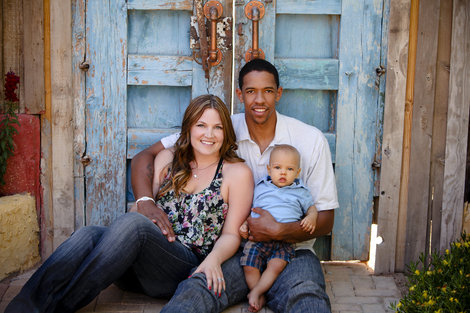 This week we're taking a look at A-list Arizona moms in honor of Mother's Day.  Today, meet the other half of a Suns superstar, Lauren Frye. 
When I interviewed Lauren Frye, I asked what she was doing for her very first Mother's Day.  Her response was youthful and innocent: "I don't even know when it is, but I suppose I'll just do something low key with my boys."
Simple Q.T. with her guys: husband Channing Frye (Suns superstar) and son Hendrix.
"Hendrix is a really cool kid; I'm absolutely blessed to have a fairly easy first-time run as a mom," said Lauren Frye, wife of Suns player, Channing Frye.
Hendrix was born October 4th, 2010, and Lauren says he arrived just in time.  That's because dad was home for a mere 24 hours before the Suns were off to Sacramento to play the Kings.  Luckily, his little man was born in the little time he was home, and so began the little Frye family.
"It's wonderful; a really awesome life," said Lauren.
The soon-to-be 27-year old met her hubby in Portland the first night Channing spent as a Trailblazer.  They instantly hit it off thanks to mutual friends…and the rest is history.
"It was a lot of fun in the beginning .  He was definitely different than anyone I've ever met."
Very different, especially because the young woman never expected to marry an athlete; furthermore, a basketball player.  Admittedly, basketball was not Lauren's cup of tea, and didn't quite understand the beauty of the b-ball game.  However, she quickly learned to love the sport, after committing to a happily ever after with the Suns star.
"When you go to about 45 games a year, you figure it out."
After Lauren and Channing tied the knot, they moved to Phoenix in August 2009.  The happy couple live at the base of Camelback near Echo Canyon, and the Northeast girl has no complaints when it comes to the desert sun.
"We love the outdoors."