Page 1 of 3
Television personality and AZfoothills.com columnist Nadine Toren is scouring the area, finding savvy Valley features, bringing readers "on the scene." Every day she'll introduce you to celebrities, athletes, and give you an inside look into local events and hot spots. She'll touch on topical issues, and keep AZ fans posted on all the big talkers around town.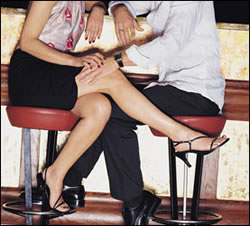 The first date--it's somewhere we've all been before.  We're breaking down dating 101, giving you an inside scoop on wooing your potential honey. 
Ahhh, the first date—it's something we're bound to forever cherish.  We ladies spend countless hours primping; perfecting that alluring ensemble, while our hopeful male counterparts can't seem to fight the butterflies.
He arrives at your door, perhaps flowers in hand—and you can only hope you'll return home feeling like Cinderella, sealing the night with a passionate farewell kiss.
However, there's a harsh reality to first dates: many do not end in happily-ever-afters.
I've always believed if a guy makes it past a third date, he could possibly be boyfriend material.  To me, that's because date #1 will tell you whether there's a mutually magnetic attraction; date #2 equals a basic "interview;" and date #3 is when people tend to start showing who they really are.
Kudos to all those guys out there (my BF included) if you've made it to date #4 and beyond.  Your mama must have raised you right.
Turns out, there's actually an art to dating, especially for savvy Valley singles.  We're breaking down dating 101, courtesy of Scottsdale relationship consultant, Joann Cohen (www.joanncohen.com).
"The big thing is for the man to listen to what the woman likes to do.  Constant dinner dates can be boring," said Joann Cohen, relationship consultant.
Let's start from the beginning.
Before you choose your date destination, Cohen suggests creating a plan of action.  This includes putting thought (go figure guys!) into the perfect place.  It's a good idea to concentrate on something you like to do—something fun often relieves inevitable anxiety.
Here's one the men will appreciate.  Cohen says you should actually limit your first date spending.  Yes, it's true, forking out hundreds should not determine whether or not you'll win her heart.
Next, consider a lunch date; something calm and quiet where you won't need to scream to hear one another.  (This does not include fast food joints.)
While in the first date planning process, you'll want to consider the type of date it is.  Is this a blind date, Internet date, or with someone you already know?  The situation definitely takes a toll on your date of choice.
Cohen calls a blind/Internet meeting a "pre-date."  She says you'll only want to book a half-hour encounter just in case you're tempted to run for the hills.  Rule of thumb: avoid long, uncomfortable gatherings, so opt for a simple coffee or ice cream.
However, things can change if you've already met your potential princess.  If you've asked her on a date, this means you are somewhat interested and ultimately want to woo her.
Keep this sort of date to a couple hours, but get creative!  Consider a bike ride (or walk) along the Hayden greenbelt in Scottsdale.  Reward yourself with a tasty treat at Sweet Republic.
Cohen also suggests having a drink (two caps) at Hyatt Gainey Ranch.  The beautiful outdoor patio and live music screams romance--and so does the Gondola ride. 
During date #1, talk about each other's interests and keep the conversation simple.  Cohen warns: steer clear of sensitive topics like religion, politics, past relationships, and family issues.
"You don't want to get too serious," said Cohen.