Page 4 of 31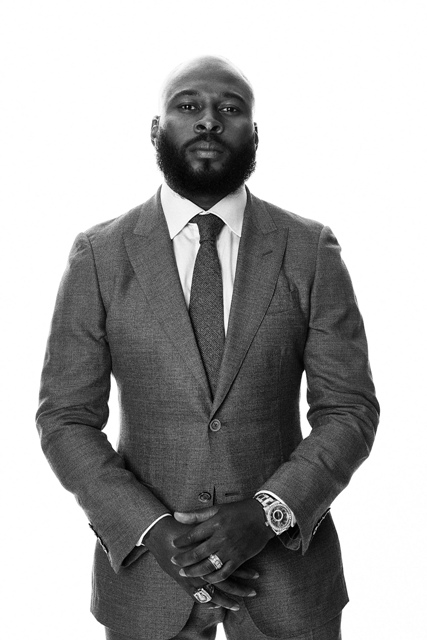 Antoine Bethea
Any football-loving household will know Bethea as a safety for the Arizona Cardinals. But did you know this star player is also the CEO and founder of Safe Coverage Foundation, which encourages kids to continue their education, and has his own apparel line, that donates all proceeds to his foundation?
Were you always interested in being a football player?
Basketball was always my first love, so football was something I did because my older brother played. My brother is seven and a half years older than me, so I always looked up to him. I started playing football when I was 8.
What advice do you have for young players with hopes to make it big?
Don't put all your eggs in one basket. It's great to have a passion and a dream that motivates you. But understand that it's very hard to get to this level. Don't let that stop you from chasing your dreams, but just be sure to diversify yourself and your abilities, and take school serious.
Education was just as important as athletics when you were in school. How has that shaped your life?
Education has always been important to me. Obviously, I won't be able to play football forever, but whatever I do decide to do after retirement, I'll be able to lean on my education and what I learned in school. I studied criminal justice in college, and if NFL wasn't an option, I was thinking about attending law school. So we shall see what happens.
Tell me about your Safe Coverage Foundation.
The Safe Coverage Foundation is based in Newport News, Va., where I grew up. The foundation is all about encouraging kids to continue their education beyond high school. One of the foundation's main initiatives is the Safe Coverage College tour. We take a group of 30 to 40 high school kids looking to go to college to check out different universities. The last tour we did we visited George Mason University, Georgetown University and Howard University. It was a pretty amazing experience. The Safe Coverage Foundation also hosts a variety of events throughout the year to help the local communities. Each holiday season, the foundation partners with a local food bank and has a turkey drive. The foundation also has a holiday shopping spree where we choose several families that could use some support and we take them shopping for all their Christmas/holiday gifts.
As you enter your second season with the Cardinals, what have you enjoyed most about living in the Valley?
The most I've enjoyed about living in the Valley is the hiking. Also, the people are cool, nice, genuine and very friendly.
How did your fashion and has an apparel line, AB41, come to be?
I've always been into fashion. In middle school, or even elementary school, I was a big shoe head. Every time my family and I were at stores, I would always ask to buy new shoes. Half the time, they didn't let me get them, but I always had an eye for it. I've always wanted to be presentable. I think a lot of it came from my older brother as well. So, naturally, as a little brother looking up to his big brother, I gravitated toward it. As I got older, it's kind of the same on the field. You look good, you feel good.
What influence do you hope to have on the Valley?
I want to inspire others through my own actions. Stepping out in the community, trying to make a difference to people that really need it. That's my main influence. Whether you have a platform or not, regardless where you are in life, you can always give a helping hand. If anything, I hope I can inspire people to do good.
What are some of your free-time passions?
Traveling, spending time with my family, fitness. And, of course, looking fly.