Page 4 of 5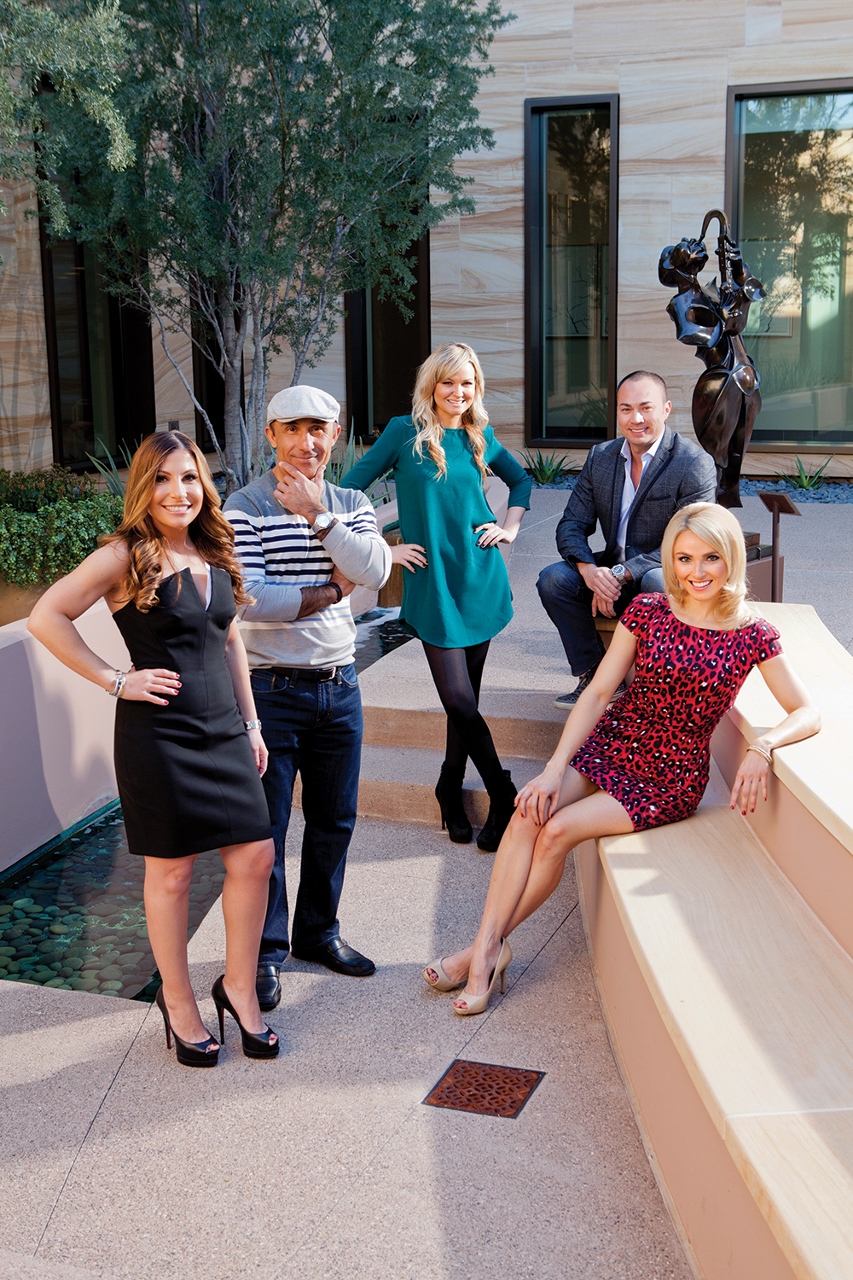 From left to right: Dr. Lisa Bienstock, David Neishabori, Michelle Rykalsky, George Carr, Kristy Siefkin
Dr. Lisa Bienstock, 34
Bienstock spends her days (into her evenings) as a pediatric dentist and partner at Desert Ridge Pediatric Dentistry, a career that she adores. Though her job keeps her busy, she still has time to indulge in her favorite past times like yoga, dining out with friends and painting, a newfound hobby. She describes herself as independent and strong, yet funny and feminine, and wants a man who isn't threatened by a motivated woman.
AFM: Who is your celebrity crush?
LB: Growing up I was in love with Fred Savage from "The Wonder Years." I always pretended to be Winnie Cooper. Oops, did I just age myself?
AFM: What is your dream date?
LB: My dream date would be racing cars at Bondurant and then out for a great dinner as the sun sets with, of course, the right person. It shouldn't really matter where we go or what we do; it is the person who I am doing those activities with is what matters.
David Neishabori, 52
Neishabori has found success as the owner of AZADI Fine Rugs and, outside of his career, believes it is just as important to be present with his loved ones, as well. He enjoy connecting with others and learning about other cultures via travel. When it comes to planning a date, romance is key, whether it is dinner at elements at Sanctuary Camelback Resort & Spa or heading to the Royal Palms Resort and Spa.
AFM: Who is your celebrity crush?
DN: Angelina Jolie.
AFM: What do you seek in a partner?
DN: I am drawn to someone who is active, intelligence, independent, and spiritual—meaning being genuine, present and positive.
Michelle Rykalsky, 32
An outdoor enthusiast, Rykalsky, PR and marketing manager for W Scottsdale, can often be found on an early-morning hike and says her dream date would involve the ocean. This self-proclaimed foodie would love to share time with someone who is adventurous, spontaneous, intelligent, loyal, compassionate, respectful, supportive and has a sense of humor—and he must love dogs.
AFM: Do you hope to get married one day?
MR: Definitely. I would like to get married one day, but I want more than just a piece of paper. I want someone who will stand by my side through the good times and bad.
AFM: Who was your first love?
MR: My first love was a boy in high school. He was a year older than me, and he used to write me notes and walk me to class. When he was able to drive, he would leave flowers or little gifts for me in my mailbox. My parents probably thought we were the silliest teenagers. Then, he decided to go to Michigan State for college, and I had to dump him immediately because I'm a Michigan fan.
George Carr, 40
On a day off, you might catch this Valley dentist waking up with Bloomberg and cinnamon oatmeal before a hike and ending the day with a steak at Dierks Bentley's Whiskey Row. His fun personality—no drama here—makes him a great catch for the woman of his dreams, who is happy and innately kind (a tan and long legs wouldn't hurt, either). 
AFM: What is your dream date?
GC: This question reminds me of looking for a unicorn. It is a bit mythical, yet totally worth looking for. At any rate, steak, pie, and ice cream would definitely be in the mix. This coupled with an amazing woman, an active environment, and fun conversations would easily lead to a spontaneous trip to Vegas or Cabo. Unlike the unicorn, this is actually in the realm of possibilities.
AFM: What is the most romantic thing you've done for a partner?
GC: That is top-secret info.
Kristy Siefkin, 32
As the weather anchor and reporter for Fox 10 News, Siefkin couldn't turn off the "journalist" switch when asked what she could offer a potential mate. Instead, this travel enthusiast asked this of a few close friends. Here is what they had to say: "She's whip smart. I've known her for 17 years and still ask her, 'How do you know that?!'" "Kristy is one of the sweetest, most compassionate people I know." "She's super quick, fun-loving and totally down to earth."
AFM: Who was your first love?
KS: The boy who sat to the right of me in our kindergarten circle. I don't even remember his name, but I know I always made sure to reserve the spot next to him during story time.
AFM: Who is your celebrity crush?
KS: Hugh Jackman.
Follow Kristy FOX 10 on Twitter