Page 1 of 5
Meet 21 of the Valley's most successful, sexiest singles.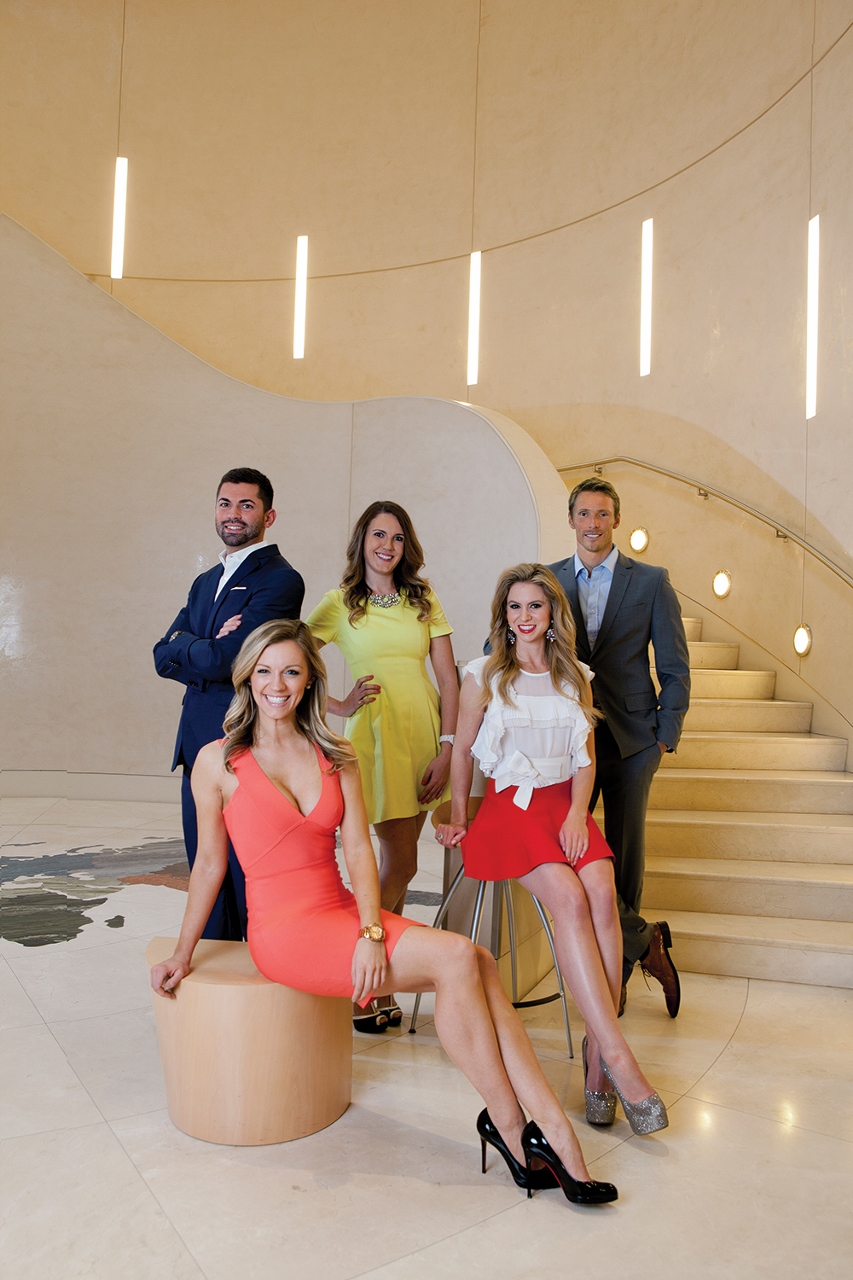 From left to right: Vince Kozar, Kat Hurd, Stephanie Lough, Jill Galus, Roland Schoeman
Vince Kozar, 30
On top of his dresser, Kozar, the director of communications and creative strategies for the Phoenix Mercury, has a glass vase filled with tickets to events, outings and travels that he has accumulated over the past 15 years. To share in these experiences, Kozar, who is gay, would like to settle down with someone who is honest, romantic, secure in himself and his career and values family.
AFM: What can you offer a potential mate?  
VK: A best friend and everything that comes along with it—loyalty, a confidante, someone to laugh with, cry with and vent to. I like to think I have a good sense of humor and a willingness to try new things and see new places.
AFM: Do you hope to get married one day?  
VK: That's a great question, and I don't know the answer. I'd like to start with finding someone who is worth spending the rest of my life with and who wants the same thing. If that's meant to be, then however it looks and whatever it's called will work itself out.  
Kat Hurd, 29
When she is not working with patients (she sells spinal cord stimulators, a device that helps manage chronic pain), Hurd—who you might recognize from the current season of "The Bachelor"—teaches barre fitness classes at Karve Studio in Old Town and takes dance classes as often as possible. Though the ability to cut a rug isn't a must for a potential mate, intelligence, the ability to be spontaneous and a great sense of humor is.
AFM: Who was your first love?
KH: That would have to be my preschool soul mate, Jon. We bonded over plastic food in the play kitchen, and he proposed to me in the thank-you note from his fifth birthday party. Thankfully, my mom saved that one.
AFM: What can you offer a potential mate?
KH: I'm fiercely loyal and very independent, so I definitely bring a lot to the table. I have had a lot of very unique experiences and love to be adventurous and live life to the fullest, so there's definitely never a dull moment with me.
Stephanie Lough, 26
Though Lough considers herself a workaholic during the week (she is a publicist by day and a freelance writer come nighttime), she still knows how to have fun, whether that is riding her beach cruiser, taking her pups to the dog park or savoring happy hour in Old Town. Her idea of the perfect date is pub trivia, as she says it is a great way to get to know someone and suits her personality, which is fun and easygoing.
AFM: What do you seek in a partner?
SL: I'm looking for someone that can be my partner in crime. Someone that I can have fun with no matter the situation. Intelligence and a sharp sense of humor are important. I can be really sarcastic and need someone that can appreciate dry humor. As far as looks are concerned, it's not that I don't like short guys, I just love wearing tall shoes more!
AFM: Who was your first love?
SL: Justin Timberlake. I've been a fan of his for longer than I have known most of my exes. As far as real relationships, I've been in love before, but no one worth mentioning here. I am looking forward to what (who's) next!
Jill Galus, 26
While the rest of the Valley is in dreamland, Galus' alarm goes off at 1:45 a.m. so she can get to work as a reporter/anchor for "Good Morning Arizona." When she is not reporting on breaking news stories, Galus is pursuing her love of shopping and adventure (in the form of hiking, kayaking, skiing and more). This career-driven woman is attracted to a man who is just as ambitious, as well as trust-worthy, honest and passionate.
AFM: What is the most romantic thing you've done for a partner?
JG: The most romantic thing I've ever done for a man is written a love letter without holding back a single thought or feeling. I am so old-fashioned and adore hand-written words more than anything. But instead of just writing a letter, I actually read it aloud to him while lying face to face. I will never forget that moment.
AFM: Who was your first love?
JG: I never kiss and tell.
Roland Schoeman, 33
Red wine, great conversation and butterflies in his stomach is this Olympic swimmer's recipe for the perfect date—preferably with a woman who is intelligent, a good communicator and beautiful inside and out. (He is also a motivational speaker and Advocare Advisor.) After he spends a chunk of his day training—which can include swimming, yoga and stretching, for instance—and handling administrative tasks for work, Schoeman likes to dabble in sports photography.
AFM: Who was your first love?
RS: I actually started swimming to impress a girl when I was 15. It was puppy love, but she would by all accounts be my first love. We dated for three or so months, but I may never have gotten into swimming if it hadn't been for her.
AFM: What can you offer a potential mate? 
RS: I think the best relationships all contain the same elements: love, understanding, support, motivation, friendship and communication. The relationships that stand the test of time aren't easy; they require hard work, time and dedication. No relationship is perfect but in the right relationship I am willing and determined to give all of these things. Oh, and good back massages.