Page 1 of 5
"Come when the spirit moves." —Frank Lloyd Wright to apprentice Cornelia Brierly, 1934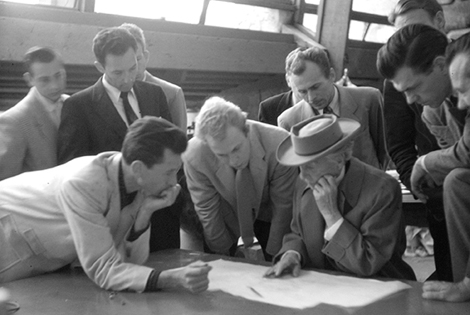 Frank Lloyd Wright with (left to right) Bob Beharka, Mark Heyman, Jim Pfefferkorn,
Kenn Lockhart, Eric Lloyd Wright, Joe Fabris, Tom Casey, Jack Howe and Arnold Roy,
circa 1950's, at Taliesin West.
If they come, we will build it. And they did: In 1937, 20-plus Frank Lloyd Wright apprentices began construction of Taliesin West in the foothills of the Sonoran Desert in
now-Scottsdale. Later, apprentices would add to the great architect's winter home and school as part of their learning experience with him until his death in April 1959. The 555-acre campus became a National Historic Landmark in 1982 and this year celebrates 75 years. In two years, it will be considered for World Heritage Site status.
In winter 1934/35, Wright and crew had caravanned West from Taliesin, his home, architectural studio and school in Spring Green, Wis. Here, in the 20's, he had consulted on the Biltmore Hotel in what is now Phoenix as well as in Chandler, working with city-founder, Dr. A.J. Chandler, on plans for the San-Marcos-in-the-Desert hotel—scrapped by the 1929 crash.
At least in Arizona, there was opportunity for study, work —and warmth. "It was a terrible winter in Wisconsin in 1934," says Cornelia Brierly, 99, then a first-year apprentice at the Frank Lloyd Wright School of Architecture, founded two years earlier at Taliesin, Wright's Wisconsin home and studio. "No one had any work either because of the Great Depression."