Page 4 of 4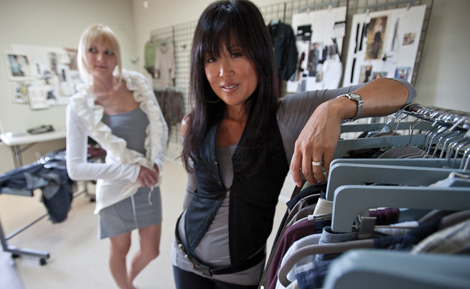 Joy Li of Joy Li Collections
With nearly 25 years of fashion experience under her couture belt, Joy Li has successfully navigated one of business's toughest industries. Her work with companies like Liz Claiborne, Carole Little and Guess has helped her develop a style that is synonymous with haute design. Reinforcing the mantra that women should wear the clothes and not let the clothes wear them, her self-named label produces pieces that highlight each woman's curves without hindering the fabric's natural movement. Every collection created by this fashion maven is thoughtfully modern while remaining effortlessly timeless. From her professional pieces to weekend prêt-a-porter, Li captivates audiences in Arizona and abroad with her simplicity and dedication to fine fashion.
I was inspired by my 5th grade art teacher to become a designer.
My favorite part of my job is seeing my vision come to life and making people happy.
If I weren't a designer, I would be a dancer.
My ultimate goal is to contribute funds and love to children in need.
Fashion has inspired my life because you learn to see the beauty in your everyday life and translate it into something that is shared with others.
My biggest influence is people who live dedicated to their passion.
In 10 years I hope that I will have made a difference.
My favorite piece I've ever designed is the T-shirt my sister wore during her breast cancer recovery.
I would describe my personal style as active and purposeful.
My favorite item in my closet is my 100 percent cotton underwear.
Joy Li Collections www.joyli.net.