Page 2 of 4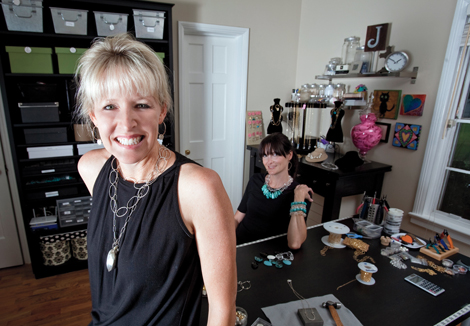 Julia Winter of Jewel Ya
There is nothing more feminine than glittering jewels dangling from dainty chains and, as one of Arizona's premier jewelry designers, Julia Winter's designs are the epitome of womanly design. Although she comes from a hefty corporate background, Winter's comprehension and manipulation of natural metals and both precious and semi-precious stones have made her creations a smashing success. Through her Jewel Ya brand, she is able to provide customers with one-of-a-kind hand-hammered earrings and necklaces that are simultaneously delicate and bold. As her popularity soars, retailers from stores across the nation clamor for Winter's addictively inimitable pieces.
My favorite part of my job is meeting and talking with clients about how to wear my designs.
If I weren't a designer, I would be a mom. I love being with my two boys, Will and Mac.
My ultimate goal is to grow my business to a larger national company with availability in more than 100 boutiques.
Fashion has inspired my life because it adds a touch of style to clothing and allows each person to express himself or herself in a different way. I prefer simplicity and having options with each design.
In 10 years I hope that I will have met my business goals and havemy boys happily in college.
My favorite piece I've ever designed is a necklace that is also a belt. It can be worn five or six different ways and always makes a statement.
I would describe my personal style as classic and simple.
Jewel Ya www.jewelya.com.