Page 4 of 5
Check out The Merchant Hotel Bar Book (Sean's doing). She's a beauty broken down in to morning (Punches, Eggnog, Fizzes, Toddies & Tonics), afternoon (Swizzles, Sangrias & Punches) and evening (Highballs, Slings & Sours) options. There are plenty of liquid pearls of wisdom in the glossary.
Each month Sean hosts The Connoisseurs Club, with the world's top mixologists, from the Cocktail God, America's own Dale De Groff to UK's Peter Dorelli (The American Bar) and others. Check the schedule, as it's well worth a trip over.
After my starter champagne, their perfect Mai Tai and another gorgeous classic, The Jack Rose, I slipped in to The Great Room, (appropriately named) formerly the bank hall, for an elegant lunch. Yes, the beverages were breakfast.
Once imbibed, I hopped a train to Dublin where I immediately popped in to Fallon and Byrne, an Irish version of New York's Dean and De Luca, but better. It's off of Grafton Street in a fabulous old building with several foodie filled floors complete with an international gourmet shop, a buzzing coffee bar and lovely restaurant.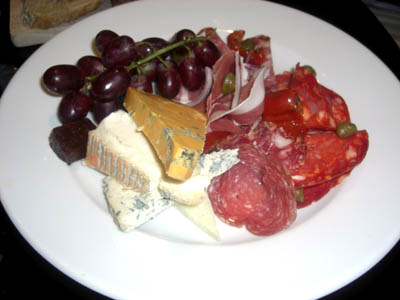 I found my liquid nirvana in their cozy wine cellar with over 7,500 bottles of 650 different wines sourced from every known and unknown region imaginable, from the classic French Bordeaux's to the big reds from Portugal's Duoro Valley and a mix of Lebanese wines. F&B's David Gallagher meticulously chooses this extensive and eclectic mix. Wines range from 7.99 to 7,000 Euros and are best paired with their artisan cheeses, cured meats and an incredible sense of decadence.
Sticking with a decadent demeanor, I checked in to sumptuous Shelbourne Hotel, awarded Ireland's Best Hotel and Best Cocktail Bar in 2007. My Father's Irish cousin, fond of the jollifications as she calls them, met me for dinner at their Saddle Room restaurant. We fell truly, madly, deeply for our sommelier Tidor Zoku who had a stunning knowledge of wines. He paired not one, but two wines with each course, beautifully prepared by chef John Mooney. Loved the local lamb!
The can't miss for an authentic feel, flavor and traditional music is Temple Bar area, which is teeming with pubs and musical options and the Temple Bar itself. It's how you'd imagine Dublin would be, spirited, ambient and a wee bit mischievous. For a nightcap, pop by Venu Brasserie where Gareth will handcraft a cocktail to your liking.