Page 2 of 5
The Irish have long been known for the drink. Be it beers or whiskey, they know how to distill it, serve it and celebrate it. I couldn't think of a better place to sip, swizzle and celebrate my birthday than back on the old sod.

My grandparents distilled gin in a tub, ran a speakeasy during The Prohibition and ran many a pub in Philadelphia. My grandfather was from the North and my grandmother from the South of Ireland. I was playing family fair and hitting them both.
I wasted no time when I arrived. Hugh Rice, the guide of the North and the Clinton's official guide, met me at the gate in Belfast and off we went along the rugged Causeway Coast complete with stops at hedge schools, a graveyard visit and a quick run over the ocean on the bouncy Carrick-a-Rede Rope Bridge. The endless views with the cobalt blue black sky made me feel like I was on the edge of the earth. "You are!" says Hugh. "In the North, you can experience all four seasons in a day." We were in season three by the time we reached Bushmill's in County Antrim.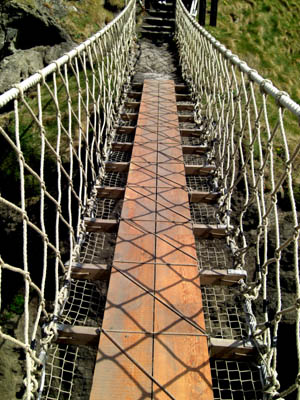 Bushmill's, the oldest licensed distillery in the world was in top form, celebrating its 400-year anniversary. After the elaborate distillery tour, we were offered our whiskey of choice. I went with their 12-year-old single malt, a special edition sold only on site. Matured mostly in sherry casks, it was a lovely complement to the homemade Shepard's pie made daily at their restaurant.
In honor of my aging, they offered me a spot of the special 400th Anniversary blend, which was blissfully smooth, containing 95% malt and 5% grain whiskey made with 30% crystal malt.