Page 3 of 5
I had a perfect night at the nearby Bushmill's Inn, an evocative spot, frequented by the serious global golfers hitting the greens at Portrush, is equally as old as the distilery and pitch perfect in the charm department. After the best Irish breakfast imaginable, complete with fresh bread, I headed to Belfast. The train drops you off in city center, steps from the famed Europa Hotel, the most bombed hotel in all of Europe, as it was the media's epicenter during the "troubles".
Belfast is bustling with brilliant pubs full of local character and old world charm. The Duke of York and Kellys Cellars are two of the top and The Crown Liquor Saloon across from Europa is the most famous. It was designed with a series of cozy snugs, small private rooms, designed so women could sneak in a wee pint back in the day. It's a museum worthy space with its tile floor, tin ceiling, etched glass, scalloped lamps, and inlaid marble mosaics.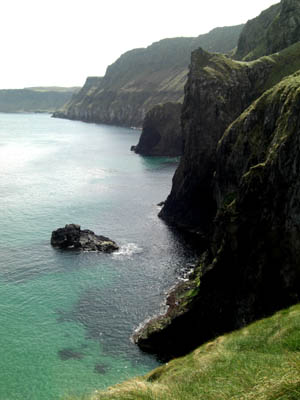 There are several inspired spots in Belfast for sips and swizzles. Venture out of city center the old world lounge at the Culloden Hotel (supposedly home to Van Morrison). It's perfect for tipples or tea, overlooking lush grounds and ocean views. If you're a city slicker, The Malmaison Hotel's dark and edgy warehouse-like, James Bond meets rocker spot is a trendy hot spot.

The crown jewel of the Celtic cocktail culture is by far, The Merchant Hotel in Belfast's historic Cathedral Quarter right around the corner from The Malmaison Hotel. This stunning five star hotel, once the Bank of Ulster is home to the world's most expensive cocktail, the Mai Tai. This spirited beauty warrants its $1,500 price tag as it is made with Wray and Nephew's 17-year-old Jamaican rum with its 75% cask strength.
The tall tale told is that Trader Vic, creator of the Mai Tai, made his first famed drink with this Rum. It was so popular that Wray and Nephew ran out of their stock. The Merchant has one of their original bottles. The rum was made in a pot still, giving it loads of character and depth, heavy on molasses with a great nose of ripe banana, orange, toffee, nut and vanilla. Hayden, the lovely bartender says," Its a deep golden color that reminds me of golden syrup."
The Mai Tai isn't the only star at The Bar. Sean Muldoon the Potation Manager is an impassioned genius. If you have a love of the classics and you want a deeper knowledge of the cocktail culture, carve out time to spend a leisurely afternoon with Sean and Hayden. Their knowledge is extensive, craft unrivaled and attention to detail inspired.
No expense is spared at The Bar from silver straws, Reidel glassware, hand crafted ice and simply the best spirits. Sean credits his mentor, from New York's well known Milk and Honey, Sasha Petraske, "Every single principal he does, we do here."