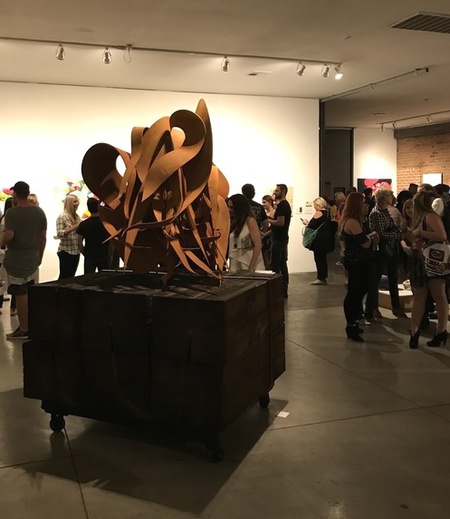 Pete Deise Scultpure Surrounded by Chaos Theory 18 Crowd!
Ushering in the fall art season, October 6th First Friday marked the return of the highly anticipated Chaos Theory now in it's 18th year! Legend City Studios welcomed the 18th Annual Chaos Theory loosely curated by Randy Slack, spotlights Arizona's local art, music and fashion, drawing massive crowds and the who's who of the art elite! Guests enjoyed great art inside and live music from local bands, fashion shows and even a little performance art keeping the energy high, performing outside the venue.
Gallery View at Chaos Theory 18 (Center Image: Fortoul Brothers, Right: Forrest Solis)
Randy Slack has amassed an impressive group of artists for this year mixed-media exhibition, playing the roles of both artist and curator. The list of artists continues to grow each year, this year's list topped over 80 artists resulting in an impressive and massive array of art on display. Each year the artist roster grows while Slack worries if there will be enough room for all of the art, every year he manages to pull it all together and this year is no exception. This year's exhibition had a nice flow, a vibrant energy and interesting pairing of artists.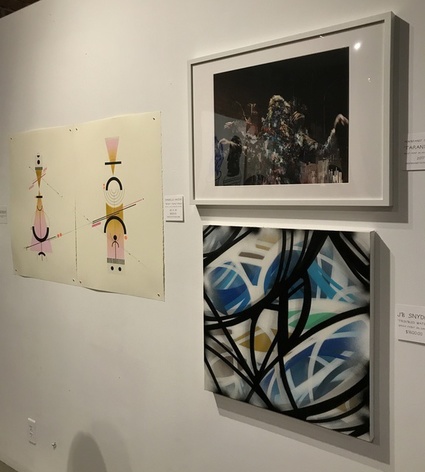 Rembrandt Quiballo (Top Right ) JB Snyder (Bottom Right)
Artists featured this year in Chaos Theory 18 included: Sergio Aguirre, James Angel, Jon Balinkie, Case Beer, Rachel Bess, Brent Bond, Brian Boner, Alexandra Bowers, Colton Brock, Andy Brown, Timothy Chapman, Cindy Dach, Bill Dambrova, David Dauncey, Turner G. Davis, Pete Deise, Matt Dickson, Greg Esser, Jeff Falk, Lori Fenn, Fortoul Brothers, Daniel Funkhouser, Gennaro Garcia, Steve Gompf, Frank Gonzales, Ruben Gonzales, Brooke Grucella, Danielle Hacche, Steven Hofberger, Travis Ivey, Johnny Jaffe, Jehu, Luster Kaboom, Megan Koth, Mayme Kratz, William LeGoullon, Tara Logsdon, Annie Lopez, Michael Lundgren, Ashley Macias, Larry Madrigal, Isse Maloi, Thomas "Breeze" Marcus, Carrie Marrill, Jacob Meders, Abbey Messmer, Judith Anne Miller, Molton Brothers, John Randall Nelson, Lisa Olson, Susan Olson, Mitch Phillips, Emmett Potter, Mike Prepsky, Rembrandt Quiballo, Wayne Rainey, Christina Ramirez, Brad Reed, Josh Rhodes, Travis Rice, Jesse Rieser, Quincy Ross, Hector Ruiz, Henry Schoebel, Randy Slack, Kendra Sollars, Jennyfer Stratman, Joe Willie Smith, JB Snyder, Forrest Solis, Brandon Sullivan, Kaori Takamura, Rick Toerne, Shauna Thibault, Lucretia Torva, Chadwick Uptain, Lisa Von Hoffner, Ellen Wagener, Ben Willis, Larry Willis, Yuko Yabuki, Yai, Mykil Zep, Abe Zucca.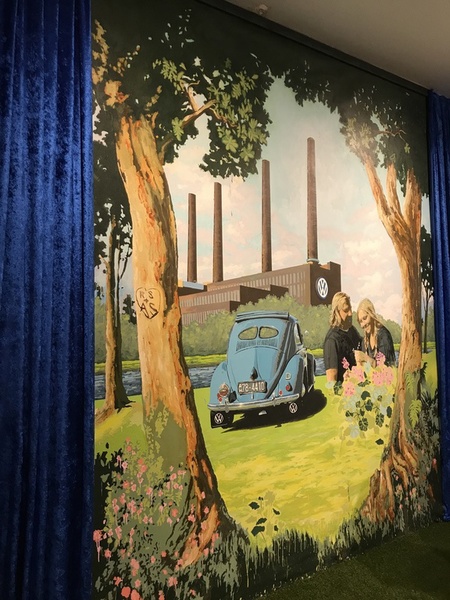 Randy Slack's painting "We got a Kooky VW Kinda Love"
This exhibition brought out enormous crowds of First Friday regulars, the art world elite, and even those who don't usually participate in the crazy that First Friday festivities has become! Slack has put together an intriguing and captivating collection of artwork; a great energy and flow dominated the evening with unique groupings of artists that stimulated engaging dialogue among the guests. Offering an excellent selection of styles and mediums that were engaging and cohesively moved the viewers through the exhibition. It was wonderful to see an interesting mix of veteran, mid-career and emerging artists included on the roster this year.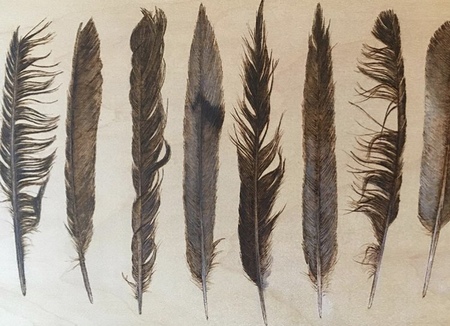 Detail of Lexie Bowers "Found Feathers (Part 2)
Some of the highlights from this year's exhibition included Randy Slack's immense painting "We got a Kooky VW Kinda Love" depicting the artist and his wife in a quite moment next to his beloved VW Beetle in a lush green setting outside the Volkswagen plant, nicely executed piece with engaging subject matter. While the subtle woodburning piece by artist Lexie Bowers depicted a series of feathers focusing on the simple beauty found in Arizona titled "Found Feathers (Part 2)."
Joe Willie Smith's scultpure "The Great Experiment"
Sculptor and performance artist Joe Willie Smith created a powerful sculpture titled "The Great Experiment", battered and crushed oil drum, boldly painted red, white and blue displayed upon a small wood pedestal (commentary on our country perhaps) encouraging the viewer to reflect and ask questions. Daniel Funkhouser's unusual combination of materials paired with vibrant colors and textures result in a playful and out of this world piece titled "ADHD Materials Study: Vyvanse 20mg."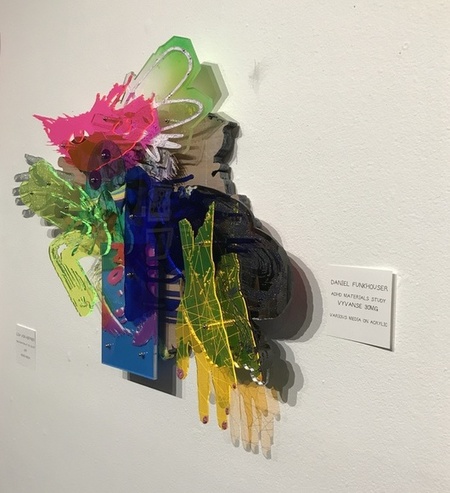 Daniel Funkhouser Mixed-Media "ADHD Materials Study: Vyvanse 20mg"
While artist Gennaro Garcia took a more serious direction with his painting "Juana- Bravo" from his Mexicana Series, a colorful background with the bold words depicting "Juana Bravo" above the skillfully depicted portrait of an elderly woman, the artist shares the story of a beautiful and inspiring woman Juana, along with donating 50% of the sales to benefit the Red Cross in Mexico. Pete Deise created a striking raw (uncoated) steel sculpture, organic, twisted while exuding such energy displayed upon a dark wood pedestal.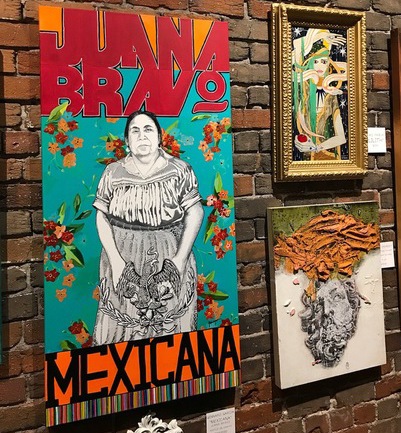 Gennaro Garcia's painting "Juana-Bravo"
Chaos Theory 18 as always offered an eclectic mix of art that was enjoyed by patrons and artists alike in a highly attended and media covered exhibition. Overall an intriguing exhibition and fantastic to see that after 18 years, Randy Slack puts together a great exhibition highlighting some of our valleys talented artists. Until next year Chaos Theory, we look forward to seeing what and who will be featured in 19!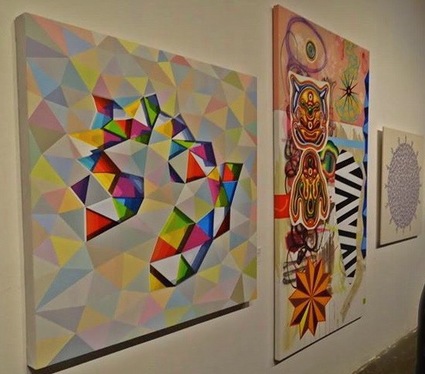 Travis Rice (Left) / Bill Dambrova (Right)
For more information about Legend City Studios located in downtown Phoenix at 521 W. Van Buren Street, visit their facebook page at Facebook. *Images courtesy and copright of Nicole Royse.