Page 8 of 8
Health & Self
Best Dentist
Howard M. Steinberg, DMD, MDS
As a prosthodontist or as we prefer, mouth magician, Dr. Steinberg will transform your smile to make it truly radiant. He offers a wide variety of treatments like whitening, veneers and crowns to get you the choppers you have always wanted. 520.886.3030, www.tucsonsmile.com.
Best Gym
Prestige Fitness
Prestige Fitness is a modern, state-of-the-art gym, which offers you the support to reach all of your fitness dreams. With options to mix it up like outdoor classes, group hikes, personal trainers and fun fitness classes, it will leave endless walking on the treadmill in the dust. 520.300.4838, www.prestigefitnessaz.com.
Best Hair Salon
Avalon
Catering to hair, skin and nails, Avalon is the one-stop beauty salon that will leave you feeling fabulous. Avalon is a great g- to whether it's up-dos for a wedding party, or it's simply a girls' day, filled with facials and manicures. 520.575.1777, www.avalontucson.com.
Best Hospital or Medical Center
University Medical Center
Educating the next generation of health caregivers, this establishment provides research and care to the people of Tucson. The excellent nurses and doctors at University Medical Center have shown that there is an attention to detail and a level of compassion that can not be found elsewhere. 520.694.8888, www.azumc.com.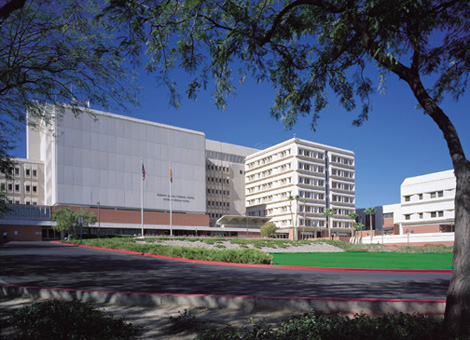 Best Plastic Surgeon
Teresa Jackson, MD
Dr. Jackson, a Tucson native, is an all-star plastic surgeon in private practice, as well as an assistant professor of plastic surgery at University Medical Center. Beyond her amazing skills to build upon beauty, she specializes in reconstructive breast surgery and can make anyone truly feel beautiful. 520.751.1225, www.teresajacksonmd.com.
Best Spa
The Spa at Loews Ventana Canyon
The Lakeside Spa offers plenty of services and features to catapult you into a state of extreme bliss. With 7,000 square feet, the spa is home to a beauty salon, relaxation rooms and an outdoor Jacuzzi. The majestic views and long list of services, The Lakeside Spa will definitely melt your troubles away. 520.299.2020, www.loewshotels.com.
Best Yoga Studio
Yoga Connection
As Tucson's only nonprofit yoga studio, Yoga Connection offers workshops, classes and one-on-one training all aimed at getting the individual in touch with themselves. Beyond simply the traditional yoga classes, they also offer kids yoga camp and meditation classes. 520.323,1222, www.yogaconnection.org.
Best Hike (Tie)
Sabino Canyon and Seven Falls
Seven Falls is a challenging 4.5-mile hike but worth the trek, ending with relaxing pools to lounge in and cool off. Or explore the foothills of the Santa Catalina Mountains in Sabino Canyon. Because it is a flat easy hike, it's perfect for all ages, as well as biking and taking in the beautiful Sabino Creek. www.sabinocanyon.com.