Page 4 of 4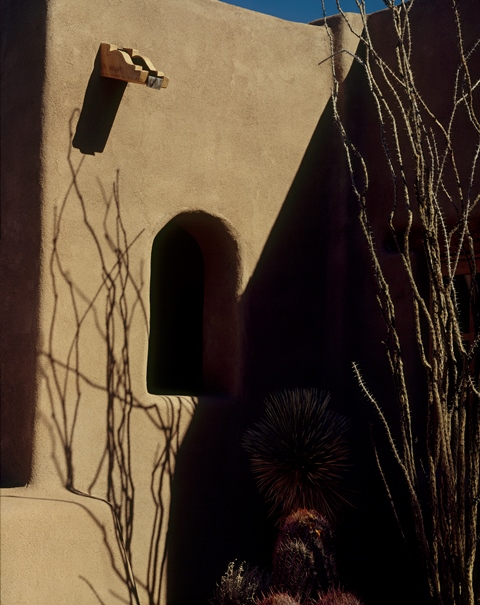 A Normal Childhood
Tull was born in Normal, Illinois, and studied art and architecture at the University of Illinois. Even as a child, the Southwest attracted him, although he spent some of his early career in advertising and as an artist in New York City before becoming a home designer and builder of adobe homes in the Valley of the Sun.
After Tull's family moved to Champaign, Illinois, when he was a child, every Sunday his parents would drive past a small white adobe house he had come to enjoy. This established a lifelong love for adobe construction, which continued when he moved to Phoenix.
As a result of this, he brought back to the area the construction of adobe homes, which hadn't been built in 53 years because they were considered inferior to those built with wood and brick. With Mechem, he worked to change the code; the adobe style was approved in 1979.
His new adobe bricks no longer contained straw as in pioneer days but an asphalt emulsion that satisfied local cities' demands for structural stability. "Combining his art with architecture, Bill designed thick-walled 'sculptures for the desert,'" Jo Ann says.
He was also influenced by Native Americans, their art, homes and philosophy. He and his two sons, Bill Jr. and Greg, learned the hoop dance and performed it in full costume during his New York years, Jo Ann says. "We had the hoop dance performed at his memorial service in 2000 at the Desert Botanical Garden in Phoenix."
Many know his homes by Tullian signature elements such as carved corbels; decorative tin cabinet fronts; stained glass he designed; ceilings accented with vigas and latillas; rounded corners; sculptural fireplaces; stepped wall heights; saguaro rib detailing; and unique lantern cone-shaped light covers handcrafted from cement and plaster.
"Bill also loved using old doors, so he designed and had made special front doors for his homes, using mesquite or walnut, even metal for a house in the Adobes de la Tierra at The Boulders," she says.
The Tull home legacy is strong: "He was an artist who visioned upon seeing the building site just exactly where and how the house would be placed on the lot," she says. "His homes were pure art." 
Images courtesy of Jo Ann Tull