Page 2 of 4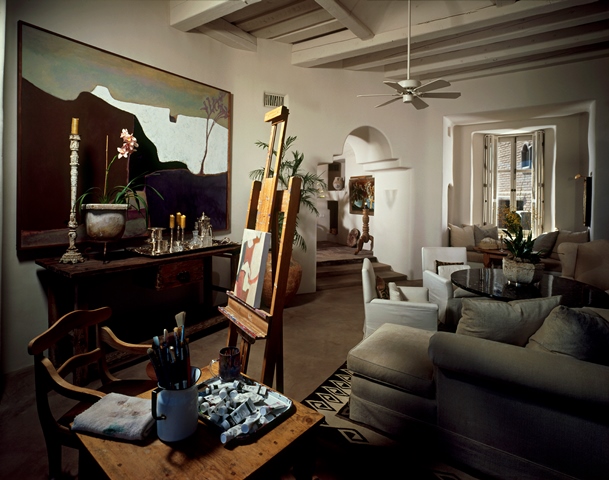 "I remember a particularly grand party at Bill and Pat's house, a wonderful Lon Megargee built around 1925," Kitchell recalls. Megargee was a Valley artist who built and lived in another home that became the acclaimed Hermosa Inn, Paradise Valley.
The costume party celebrated Twelfth Night, the 12th and final one after Christmas. "Bill and Jo Ann did not disappoint. Their costumes were fabulous. Bill came as Merlin the Great Wizard," says Kitchell, who opened her design firm in 1980 and is now a partner with Christopher Brusnighan in KITCHELL · BRUSNIGHAN Interior Design Associates, Scottsdale. "Merlin was perfect for Bill. There was always a bit of magic to him," she adds.
Almost 16 years after his death, others are remembering the magic of William (Bill) F. Tull (1924−2000), who painted bold minimalist works, still very much in demand, and designed sculptural homes incorporating Pueblo, Moorish and Territorial influences, often with handcrafted signature elements.
Tull and Phoenix contractor John Mechem also helped to change rules that had prevented building with adobe in Arizona for years. For this and his other achievements, Tull became a Phoenix Home & Garden "Master of the Southwest" in 1990. Scott Burdick, co-owner and managing partner of Wiseman & Gale Interiors, the 50-year-old design studio in Old Town Scottsdale, got to know Tull when growing up in the Valley.
"Our families were friends, and his two daughters, Jana and Jennifer, were close friends in grade school and high school," he recalls. "Later in my childhood, I came to understand his work: his amazing homes and his paintings. I remember thinking to myself as a kid that I would like to have a career like his. I admired his talent very much." Jana and Jennifer still live in the Valley.
Today, Wiseman & Gale continues to sell his sought-after paintings, which beautifully complement today's taste for Contemporary styling, Burdick says.
"Bill's art was truly his first love, but the house designs were so in demand he was not able to spend enough of his later years to paint," says Jo Ann, who lives in Scottsdale. "Bill brought art to architecture and architecture to art. He was an artist/designer who left his mark in both fields."