Page 3 of 4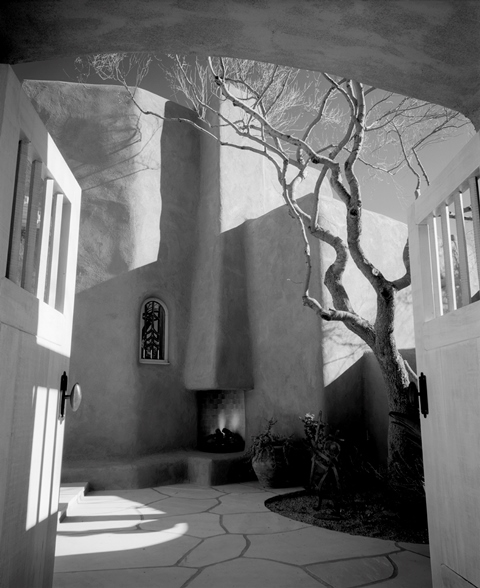 The Home as Sculpture
Because he was not registered as an architect, he contracted several certified architects to draft building plans, including the late Jim Coady, his draftsman for many years. "Bill always drew his floor plans and elevations by hand," Jo Ann recalls.
Later paintings were influenced by his adobes. "His adobe homes, for example, featured windows that framed trees to become 'art,'" she says. "I think, as do others, the sculptural design of Bill's buildings is artwork in itself. Everything in Bill's designs was connected with the earth through softness and naturalness."
"Bill was hands on during construction to make sure all walls were what he had envisioned with his artist's eye. He also preserved the trees on the site and selected new trees for his projects to complement the houses. His homes 'grew from the earth.'"
Tull's custom designs were built in Desert Mountain, Desert Highlands, Paradise Valley, Pinnacle Peak, Cave Creek and the Adobes de la Tierra at The Boulders in Carefree. Outside of Arizona, his homes are in Texas, for singer George Strait; in Santa Fe at Las Campanas; Las Vegas, Nevada; and, in California at Palm Desert, Carmel by the Sea, Santa Barbara and La Jolla.
In 1968, Tull invested $1,000 from an art show held in the family's rented adobe to buy three acres in Paradise Valley for $15,000 to build his first family home. As the costs to build exceeded what the bank would lend him, he sold a painting of Jo Ann for $3,000 to actor William Holden, Jo Ann recalls.
Kitchell remembers working with Tull on the Barnes home in the Boulders in the '90s: "It was one of his best projects in my estimation, a joy to live in," she says.
"Bill was an artist first and very nearly painted his projects in place," she adds. "If a fireplace or a window did not suit him in space, he had no hesitation of making changes to complete his vision."
Wiseman & Gale worked with Tull on a variety of projects through the '90s, in particular associates Anne Gale, Sue Calvin and Patty Burdick, who collaborated with him on his final project in Desert Mountain, completed after his death.
"Bill was an incredible and unique talent," Burdick says. "His homes are romantic, without being kitsch or predictable Southwest. An artist architect."
He's happy to see Tull's homes bought and renovated during the last 10 or so years. "Although the Pueblo adobe style is somewhat 'out' right now, his homes are the exception. The architecture is so strong and so timeless," he says. "The new owners are lovingly restoring them –– instead of changing them architecturally."