Page 6 of 6
History of the Thunderdog:
Life Thunderbird, Martin Calfee, 72, shares a little bit of the Thunderdog hotdog's history and how it has become a fixture between the 10th green and the practice tee at TPC Scottsdale during the tournament week.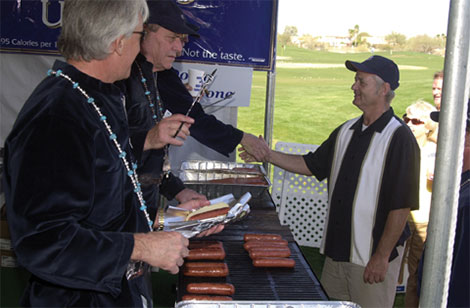 Do you cook Thunderdogs yourself during the week of the tournament?
Oh, yes. I've been doing this for 11 years.
What is your tournament schedule like?
I go out there on Wednesday morning of the Pro-Am and I stay until Sunday afternoon. I start setting up at 7:30 a.m. every morning and get out of there about 5 o'clock, then I come home and I crash.
What is the secret to a great Thunderdog?
The love that goes into one of those little fellers. Years ago, one of my first years out there, the dogs came frozen and I had to thaw them because I couldn't put them on the grill frozen. So to thaw them, we boiled them in water and somebody poured some beer in there. Someone tried it and said how good they were; I tasted it and agreed. From then on that's how we prepare them before we grill them.
What kind of beer do you boil the dogs in?
Oh, that is a secret. I couldn't tell you what the brand of beer was. That's what makes them special.
How many Thunderdogs are stocked in preparation for the tournament?
We order 4,500 and I cook every one of them individually.
Is there a particular day when the dogs just fly off the grill?
Saturday is our biggest day and we probably sell 1,200 on that day.
Does anyone help with the cooking?
Oh, yeah. I have about 15 Thunderbird volunteers out there but I stay right there the whole time.
What keeps you coming back?
The whole key to it really is that all the proceeds go to charity. I raised about $60,000 for charity out of that whole stand last year.
Do you have a favorite Thunderdog story?
Yes. We were closed one day about three or four years ago because it was raining. The tournament was still on but the wind was blowing and I just didn't want to open the stand up that day. Some random kids went out there and just opened up the stand, turned the grill on and started selling hotdogs and booze. They had it open for about an hour until they got caught. It was unbelievable, I couldn't believe it.